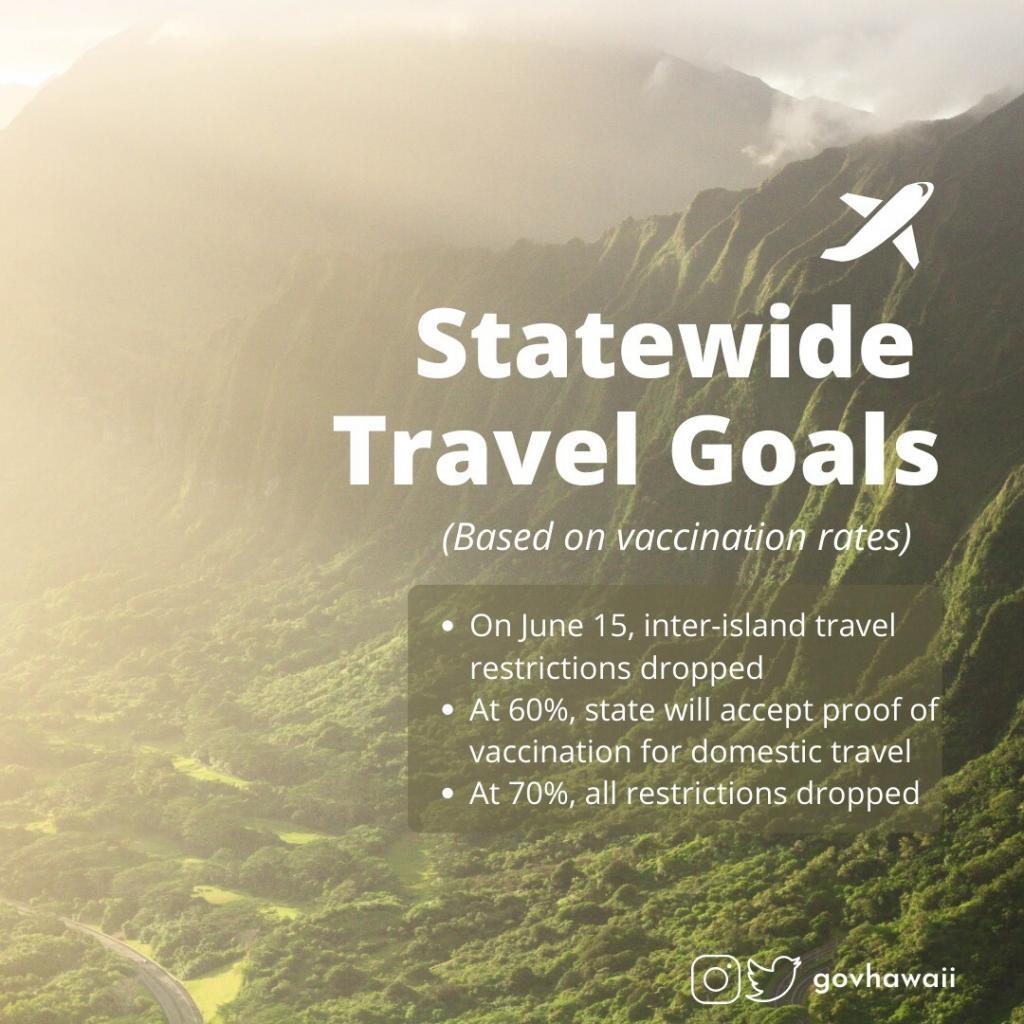 Hawaii's Governor Ige held a press conference on June 4, 2021 to make several announcements regarding easing travel restrictions to and within the state.
Ige said, "The easing of travel restrictions is a direct result of our robust vaccination rate, and a community that sacrificed and did what it had to do over the past year and a half to stop the spread of COVID-19. We need to push hard now so we can get to the point where Safe Travels is no longer needed to keep the people of Hawaii safe."
Hawaii inter-island travel restrictions to end June 15
Ige announced the end of all restrictions for inter-county travel starting June 15, 2021. This change means that anyone, whether vaccinated or not and whether a Hawaii resident or not, will be able to freely travel from island to island without pre-testing.
The governor stated that the only exception to this rule is that if a person is in quarantine, they are not allowed to travel.
Vaccinated Hawaii residents to be able to bypass testing and quarantine when returning to Hawaii from out of state
Additionally, the governor announced that beginning June 15, 2021, trans-Pacific travelers who have been vaccinated in Hawaii may bypass quarantine without a pre-travel test. Note the key qualifier in this easing of travel restrictions — that the traveler must have been vaccinated in Hawaii.
60% Hawaii vaccination rate will open travel for individuals vaccinated in the U.S.
When the state reaches a 60% vaccination rate, individuals vaccinated in the United States who are traveling domestically, will be able to bypass the pre-testing/quarantine requirement with proof of vaccination through the state's Safe Travels program. Ige said that through June 3, 2021, Hawaii had reach a vaccination rate of 52%.
Non-vaccinated travelers from the U.S., will be able to travel to Hawaii without quarantine by obtaining the proper, pre-travel COVID test. See hawaiicovid19.com/travel/getting-to-hawaii/ for those existing requirements.
70% Hawaii vaccination rate will end all travel restrictions to Hawaii
The governor stated that when the state achieves a 70% vaccination rate, all restrictions on travel will be lifted and the Safe Travels program will end.
—
For Hawaii's current COVID travel restrictions and policies, go to hawaiicovid19.com/travel
The post All Hawaii inter-island COVID travel restrictions to be lifted June 15, 2021. More restrictions to be eased as vaccination rate increases appeared first on Go Visit Hawaii.