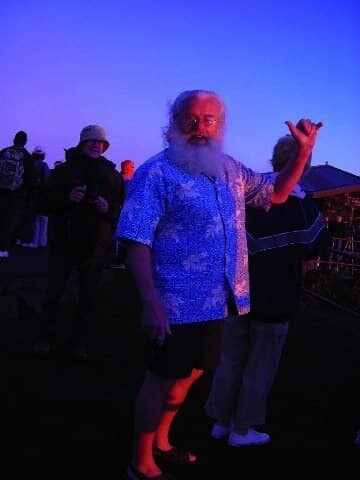 Today's Aloha Friday Photo was first posted 10 years ago. We've revisited this magical photo and story a couple other times and continue to find it remarkable.
Annie Chavez-Hollingshead took this photo while watching sunrise from the summit of Haleakala when she visited Maui right around Christmas in December 2007.
Annie told us that it was a very cold morning with a few snow flurries. The summit of Haleakala is just over 10,000 feet above sea level, so it can be quite chilly — especially in winter months.
As Annie was snapping photos of sunrise, a man who looked like Santa Claus caught her eye. Despite the cold, this man was only wearing a short-sleeved Hawaiian shirt, cargo shorts and sandals. Even though everyone else was shivering, this man didn't appear like he was even remotely cold.
With camera in hand, Annie wanted to snap a photo of this gentleman In fact, to get his attention, she even called, "Santa" and without hesitation, he turned to her. As he realized she wanted his photo, he gestured that it was okay to take the shot.
Annie said that no one else was looking at this Santa-looking person except for her and her fiend. No one else seemed to notice him.
Yet another mystery about this magical encounter is that after some brief distractions, they looked again for this Santa, but couldn't find him. He seemed to disappear!
Who was this Santa-like man? Where did he go? It all remains a mystery!
Annie also shared one of the lovely sunrise photos she captured. It's really special to witness the sun rise above the clouds and Haleakala crater. In Annie's case it was even more spectacular!
We wish you and your ohana a Mele Kalikimaka!
The post Aloha Friday Photo: Magical Santa Encounter on Haleakala, Maui appeared first on Go Visit Hawaii.