Mahalo to Debbie Reza for this colorful Hawaii sunset shot for Aloha Friday Photos.
—
Hawaii COVID-19 cases have been increasing "exponentially" per Hawaii's Director of Health, Dr. Anderson. Oahu is the epicenter. The following graph illustrates just how much the virus has increased on Oahu. (Source)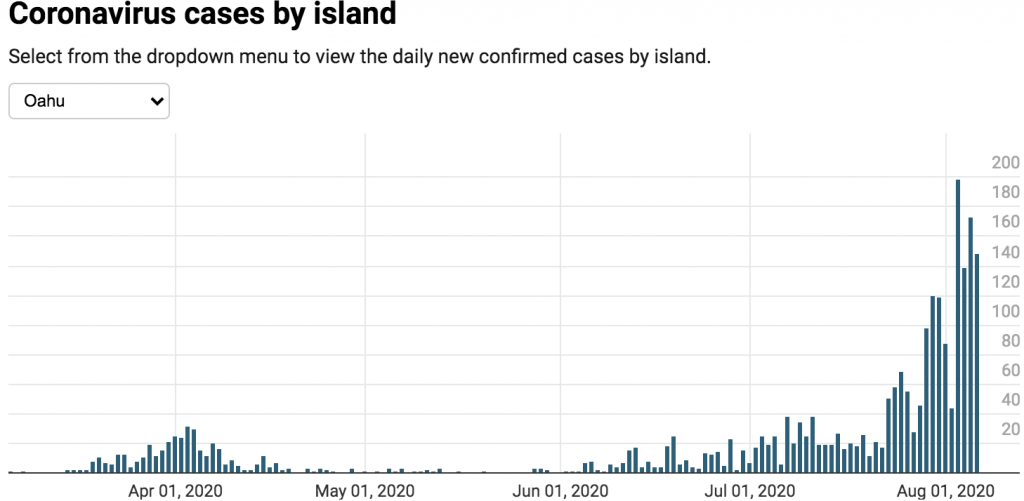 Oahu is home to roughly 67% of Hawaii's population, but has logged 87% of the state's cases.
Why have cases skyrocketed on Oahu? Recent clusters have been traced back to large gatherings in uncontrolled environments such as parties, hot yoga classes, and, sadly, funerals.
In a press conference on Thursday, August 6, Gov. Ige and Oahu Mayor Caldwell announced new restrictions. First, the mandatory 14-day quarantine with inter-island travel that was lifted in June, will be partially reinstated. This order applies to passengers flying from Oahu and arriving on the counties of Kauai, Hawaii and Maui. So, for example, someone flying from Oahu to Kauai would have to quarantine, but someone flying from Kauai to Oahu would not need to quarantine. This partial inter-island quarantine order is due to start August 11th.
Next, Mayor Caldwell of Oahu announced some stringent rules that go in effect Saturday, August 8th through September 4th. The new restrictions are summarized as follows:
All Oahu parks, hiking trails, botanical gardens and beaches are to be closed.  Running and walking through the parks will not be allowed. The parking lots for parks will also be closed.A person may only traverse the beach to get in and out of the ocean.
Parking lots for scenic lookouts like Halona Blowhole and Diamond Head will be closed.
The Honolulu Police Department, which serves the entire island of Oahu, is allocating 160 additional officers to begin more strict enforcement of coronavirus-related rules and will be more likely to issue citations and make arrests rather than issue warnings.
—
In the press conference, Gov. Ige was asked if the plans to open tourism  with a pre-travel COVID-19 test on September 1st will go forward. He said they hope to announce those plans in the next week. Note that the plan has only been announced in a conceptual form. Details have not yet been finalized or released.
If, and it's a big if, Hawaii does open September 1st with the pre-travel test program, and you have a trip planned to Oahu between September 1st and 4th, consider the restrictions we listed above. You may want to investigate alternatives.
The post Aloha Friday Photo + MAJOR new RESTRICTIONS on OAHU and inter-island travel appeared first on Go Visit Hawaii.