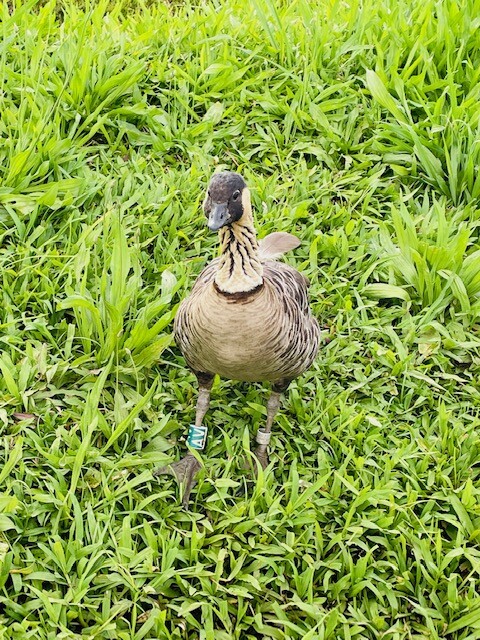 Mahalo to Dr. Rick Wishart from Winnipeg, Manitoba in Canada for sharing these wonderful Aloha Friday Photos.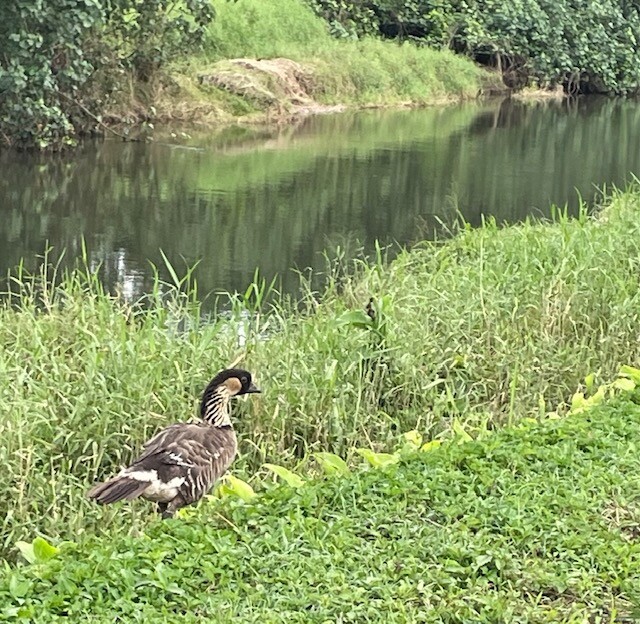 Rick and his wife Katherine visited Kauai, Oahu and Maui earlier this year. Here's what Rick shared about these photos and the lovely reasons for this particular trip to the Hawaiian Islands.
"These photos attached were taken on April 5, 2023 on Kauai at the Hanalei National Wildlife Refuge along the Hanalei River. Photos are of the flooded fields managed for endangered waterbirds and plants by the US Fish and Wildlife Service. Species pictured here include the Hawaiian Coot Fulica alai and the Hawaiian Goose Branta sandvicensis or Nene, which is the official state bird of Hawaii. You can see that many of the birds have been leg banded for research purposes.
"I'm a retired waterfowl biologist having worked for 32 years with Ducks Unlimited Canada and graduating with a PhD from the University of Manitoba and the Delta Waterfowl and Wetland Research Station. So this stop was a must for me!
"On this trip my wife Katherine Lane and I visited Kauai for a week as well as a week in Oahu and Maui. We have visited Hawaii many times and before I met her, Katherine worked as a nurse for 7 years in Oahu at the Kapiolani Medical Center for Women and Children in the 1990's. In fact a highlight of this trip included a reunion of the medical staff at Kapiolani from that era which we were pleased to attend along with many old friends from around the world."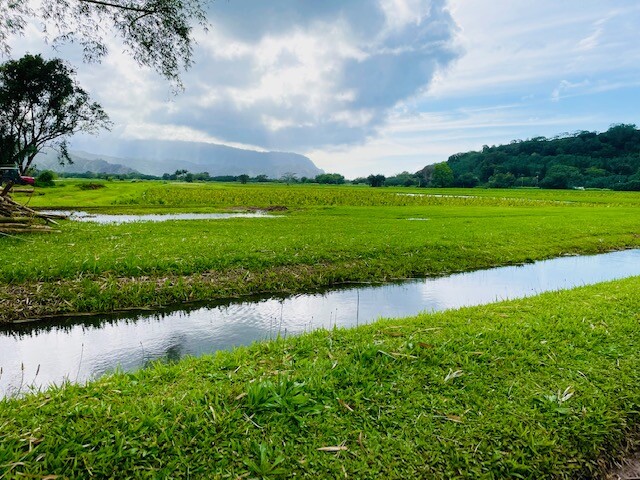 Experts estimate that the nene population is approximately 3,252 across all of the Hawaiian Islands. Kauai is home to approximately 60% of the entire population. We have seen several nene in this same area where Rick's photos were taken, beside the Hanalei National Wildlife Refuge. Additionally, we've seen nene at the nearby
Kilauea Point National Wildlife Refuge
.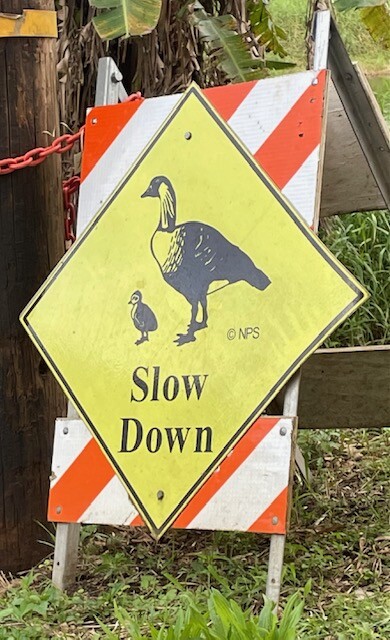 Ricks' photo of the nene sign is a great reminder to take extra precautions while driving around areas where nene live. They do often meander near roadways and parking areas. Actually, Kuhio Road, which is one of Kauai's main highways, borders the Hanalei National Wildlife Refuge.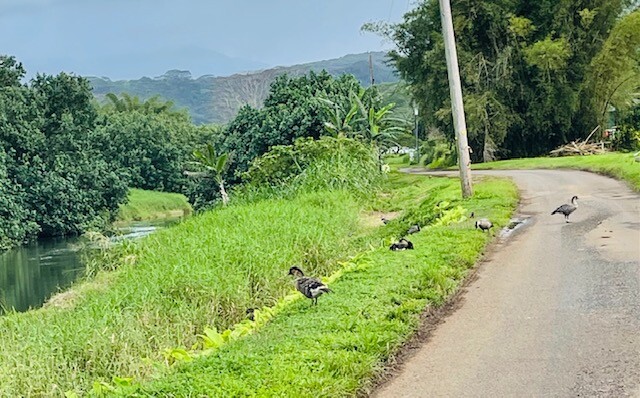 Other places where you are likely to be near nene are at Haleakala National Park on Maui and Hawaii Volcanoes National Park on Hawaii (Big) Island.
Rick shared one more bird photo with us. It's an endangered, endemic bird that I don't ever recall seeing while visiting Hawaii — a
Hawaiian coot
.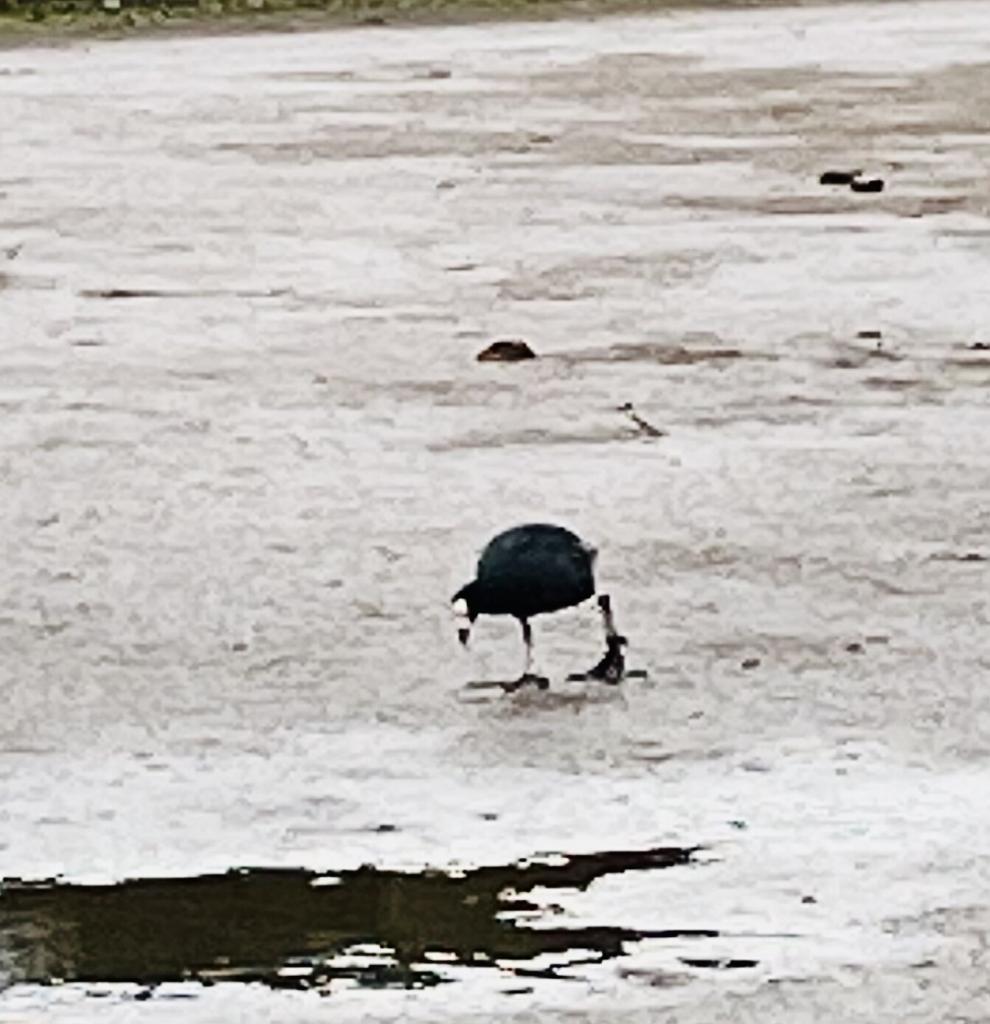 As we were preparing this article, we learned that there is a new viewpoint for the Hanalei National Wildlife Refuge that will be opening to the public. Anticipated opening is "Fall 2023," so it should be open soon. We will look forward to checking it out the next time we visit Kauai.
Read our article, Wildlife you might see on a Hawaii vacation, for more birds and animals to keep your eyes peeled for a glimpse.
Happy Aloha Friday!
The post Aloha Friday Photo: Nene in Hanalei National Wildlife Refuge appeared first on Go Visit Hawaii.