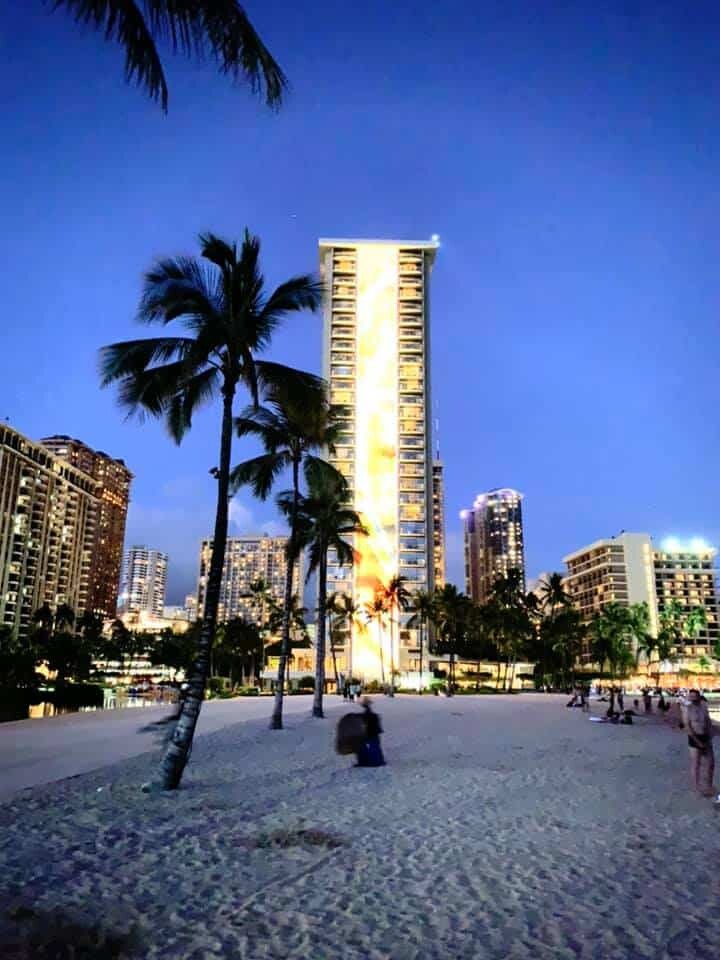 Mahalo to Chanon Pathomsarp for sharing this Aloha Friday Photo. We titled this one
"Night Rainbow" because of this neat evening shot facing Hilton Hawaiian Village's Rainbow Tower.
—
Hawaii Travel Update 
As we shared yesterday, Hawaii's governor expressed confidence in the October 15th start of the pre-travel testing program. As a reminder, the plan will allow visitors to be exempt from the 14-day quarantine, if they provide proof of a negative COVID-19 test taken at an authorized testing partner within 72 hours of the final leg of their flight itinerary. (See hawaiicovid19.com/travel for more details.)
Despite the fact that the concept of pre-testing to bypass quarantine has been known since the original announcement on June 24th, recently some of the island/county mayors are reluctant to move forward with the plan. They don't believe the plan is strong enough. Ideally, they'd like a second test at arrival and/or 48 to 72 hours after arrival with quarantines while awaiting test results.
As of this morning, which is just six days prior to implementation, Oahu and Maui plan to proceed with the pre-travel testing plan. Kauai and Hawaii (Big) Island are uncommitted to the pre-travel testing plan as is.
Kauai proposing system of tiers to regulate quarantines
Yesterday, Kauai Mayor Kawakami proposed a tiered system that allows or prevents pre-travel tested travelers to bypass quarantine based on a seven-day rolling average of COVID-19 cases. This tiered plan has been submitted to the governor for approval.
Here's the description of the tiers from the mayor's announcement of this proposed system.
"Mayor Kawakami's proposed Emergency Rule 19 provides a four-tiered system to define allowable businesses and activities, based on the current disease outlook on Kaua'i at that time.
• Tier 1 is the most restrictive tier. It goes into effect if there is a one-week average of eight or more daily COVID-19 cases. No pre-testing quarantine exemptions will be allowed.
• Tier 2 assumes that the seven-day average of daily COVID-19 cases is between five to eight cases. Moving into this tier would automatically trigger Kaua'i to opt out of the state's pre-travel testing program and continue a 14-day mandatory quarantine for incoming travelers.
• Tier 3 assumes a weekly average of two to four daily COVID-19 cases. At this level, transpacific travelers will be able to pre-test out of quarantine, per the state's travel plan. Restrictions such as further limiting the size of gatherings and receptions would be put in place.
• Tier 4 is the least restrictive, and is the current level on Kaua'i: an average of less than two daily active cases. It allows nearly all businesses and activities to operate with minimal restrictions. It utilizes the state's 72-hour pre-arrival test program to allow transpacific travelers a quarantine exemption."
Our biggest question regarding Kauai's proposal is – if it is denied, will Kauai opt out altogether?
Hawaii (Big) Island participation in pre-travel testing plan still unclear
Earlier this week, Hawaii Island Mayor Kim stated that Hawaii (Big Island) County would be opting out of the pre-travel testing program. (For sources, see this link to a Star Advertiser article and this one to Big Island Now.) At the Wednesday press conference, which we covered here, the governor said he had not been informed. Through end-of-day Thursday, there has been no new update.
The post Aloha Friday Photo: Night Rainbow + Kauai proposes tiered-system that may require visitors to quarantine + Big Island still unclear. appeared first on Go Visit Hawaii.