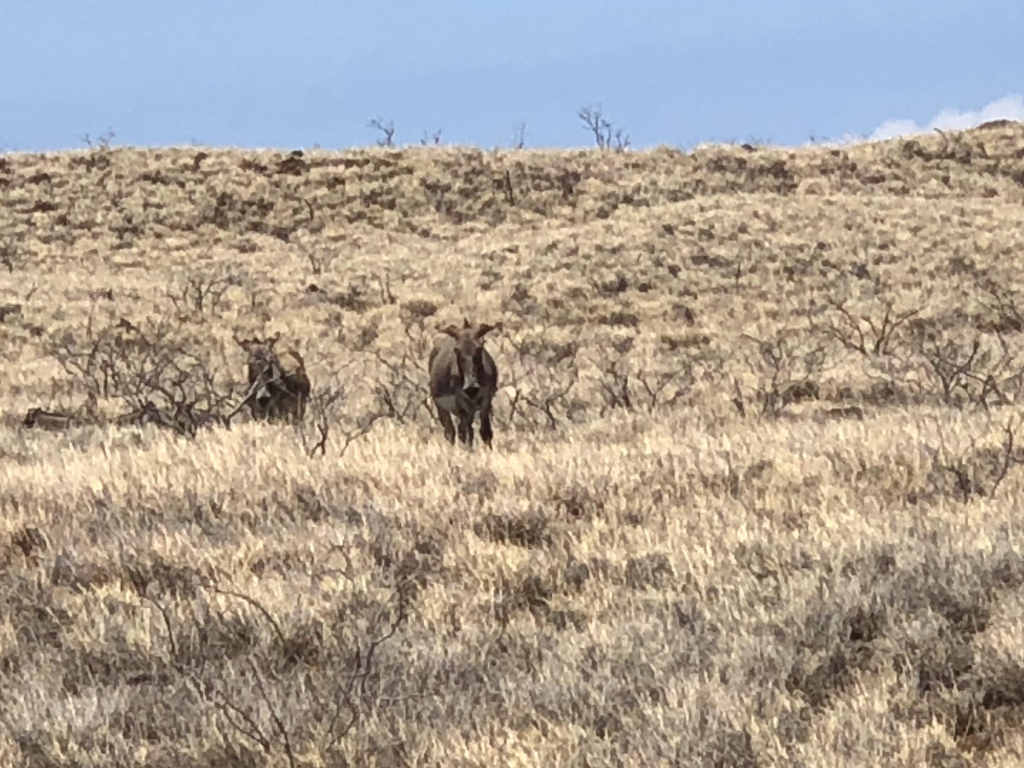 Mahalo to Bob and Sue for sharing this rare shot with us for Aloha Friday Photos. They captured this shot recently while visiting the Big Island of Hawaii to celebrate a belated 50th wedding anniversary. (Happy Anniversary to Bob and Sue!)
On their Big Island adventures, they set out to see some wildlife. Lo and behold they actually saw the elusive, wild donkeys! Here's what Bob shared,
"Last week , while we were out trying to photograph feral goats with wide spread horns(helicopter billies), we found 4 wild donkeys in with a herd of goats. As per the locals, seeing wild  donkeys are rare these days and are referred to as Waikoloa nightingales.
"I asked very experienced outdoorsmen about the wild donkeys and showed them the photos. They all told me that at one time there were lots of them, but they were captured and moved off the Island. None of those people who I asked have seen any donkeys in many years."
What a special and rare find! As we've visited the Big Island, we've seen warning signs for donkeys along Highway 19, but have never actually seen one.
Out of curiosity about the "nightingale" moniker, I did a Google search for "Waikoloa Nightingales" and this interesting result from Waikoloa Beach Resort popped up. The article notes the following:
"Still spotted occasionally in the lava fields near Waikoloa Beach Resort and Waikoloa Village, the Waikoloa Nightingales — as they are called for the semi-melodious braying noise they make day and night, distinct from the typical honking of a donkey — are descendants of those working animals that helped coffee farmers get their product to market almost 200 years ago."
Do you enjoy observing the wildlife when you travel? Several years ago, we wrote an article about the wildlife you might see on your Hawaii vacation. What wildlife have you seen on your trips to the Aloha State?
Happy Aloha Friday!
The post Aloha Friday Photo: "Waikoloa Nightingales" appeared first on Go Visit Hawaii.