We wrap up our series highlighting great infinity pools at Hawaii hotels, with a focus on Oahu. While Oahu is last in this series, it's certainly not least! So, let's dive in!
Sheraton Waikiki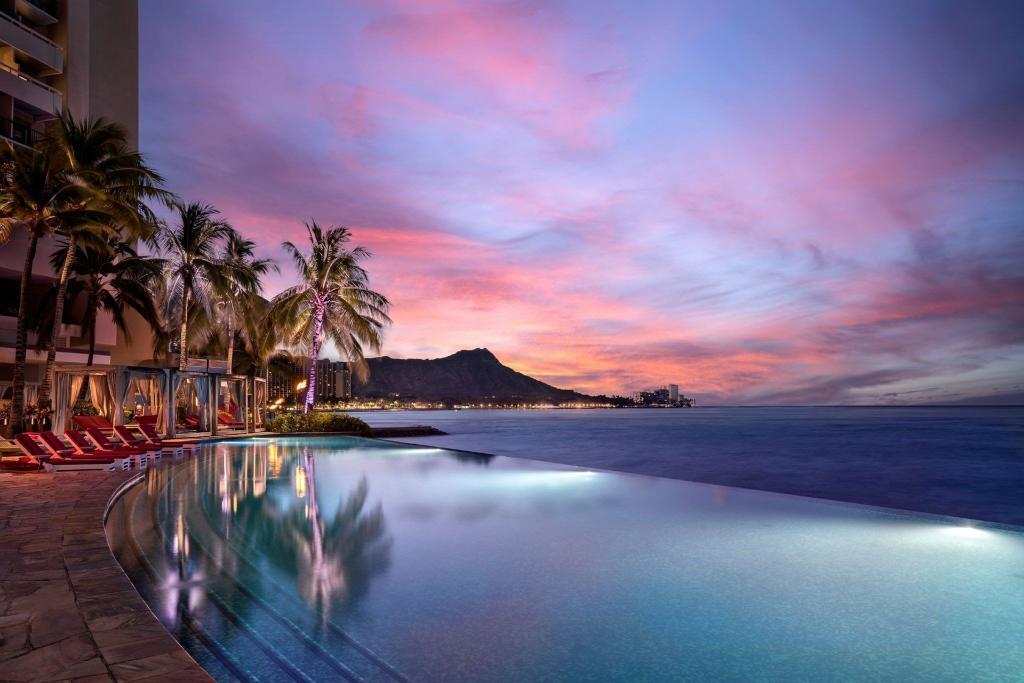 The infinity pool at Sheraton Waikiki is so close to the ocean and offers a tremendous view of Diamond Head, Waikiki and, of course, the beautiful blue Pacific. According to their website, this pool is the longest oceanfront infinity pool in  North America.
While the Sheraton Waikiki offers two other pools that are fun for adults and children, the infinity pool is reserved for guests ages 16 years and up.
Halepuna Waikiki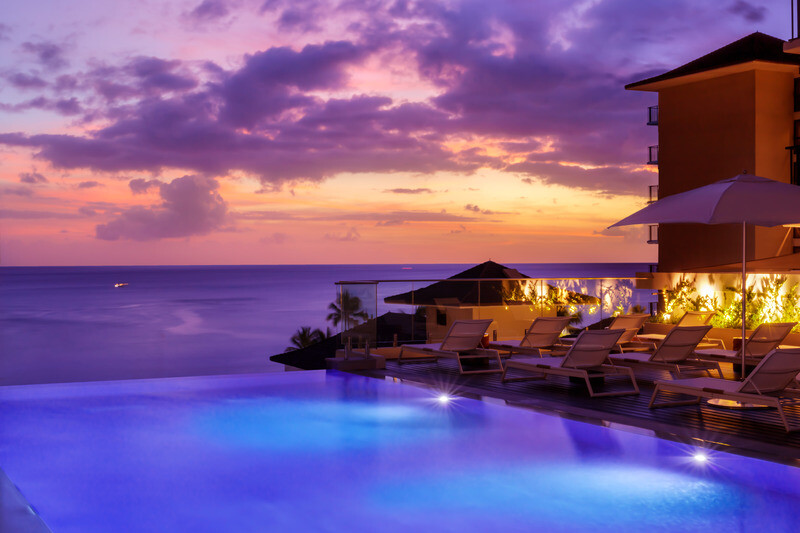 Halepuna Waikiki by Halekulani is one of Waikiki's newest luxury hotel additions. While this hotel is situated behind the the Halekulani, the pool deck is on the eighth floor, which provides wonderful views of the ocean. For more information, see this link.
Alohilani Resort in Waikiki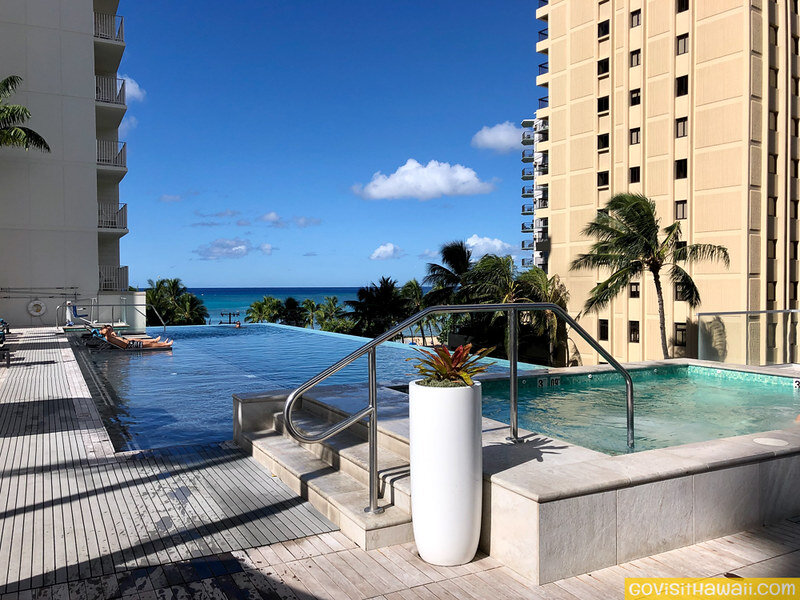 Alohilani Resort offers a saltwater infinity pool. The lounge chairs and most of the pool edge face the neighboring hotel on this fifth story pool deck. There is a decent, limited view of the ocean from one end. From experience, I will caution you that it's not the best of views from a Hawaii infinity pool as nearby power lines somewhat interrupt the nicer views.
Four Seasons Resort Oahu at Ko Olina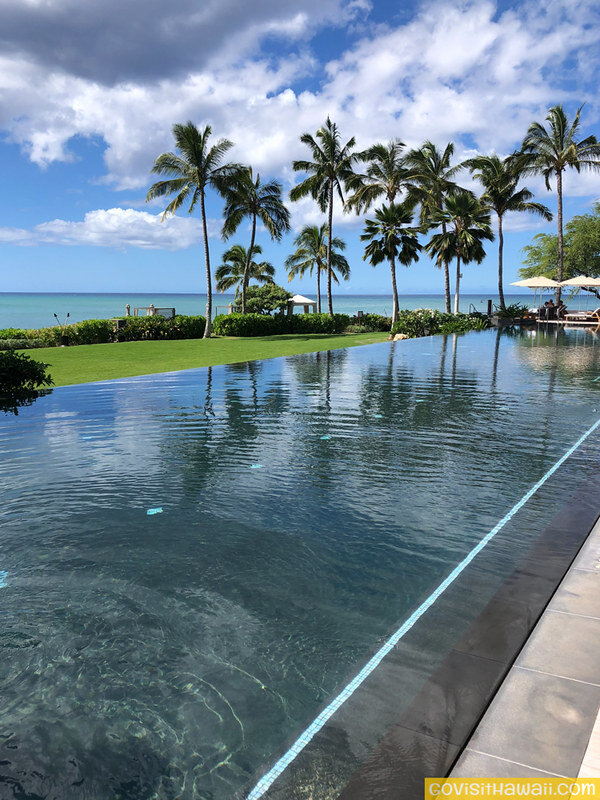 The adults-only infinity pool at Four Seasons Resort Oahu at Ko Olina is one that we really, really enjoyed during our stay. It's rare that we carve out much relaxation time when we visit Hawaii, but we managed to spend a good bit of a morning and early afternoon at this infinity pool. We could have easily spent more time there. It was so relaxing.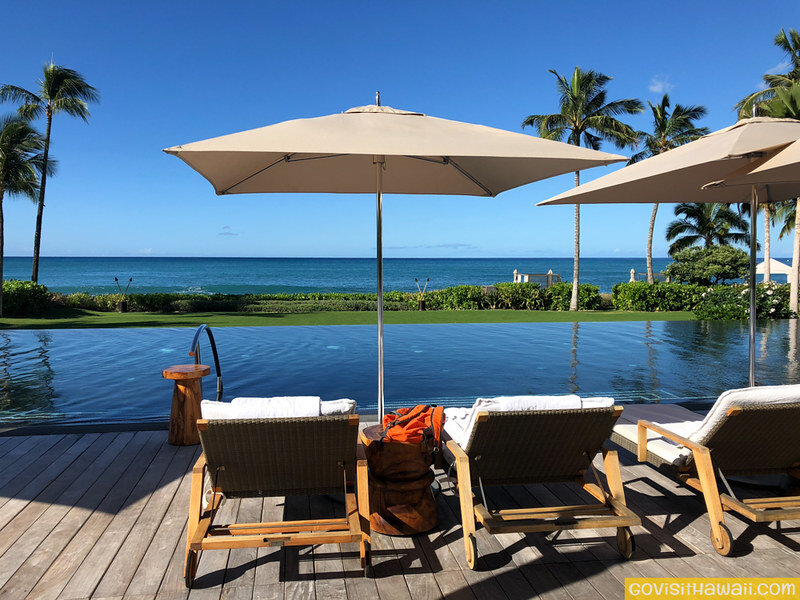 In addition to taking a dip in the pool, the cushioned lounge chairs and umbrellas were very comfortable.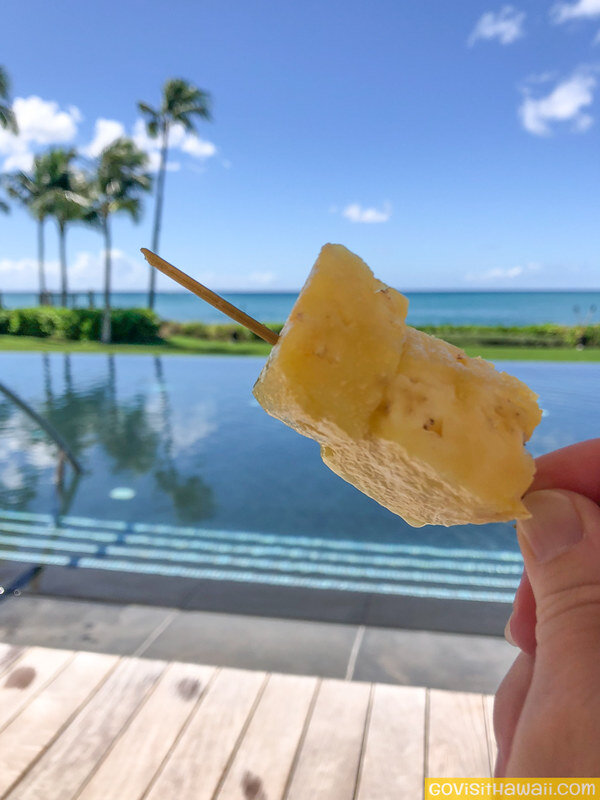 Pool staff delivered refreshing treats to us — for example, fresh, local pineapple.
Aulani, A Disney Resort in Ko Olina 
The pools at Aulani are fantastic! We were invited to the grand opening back in 2011. While we stayed at Aulani, we felt like a couple of kids as we splashed around in the pools. In addition to the watersides and lazy river, the resort offered an infinity whirlpool spa with a lovely view to Ko Olina lagoon.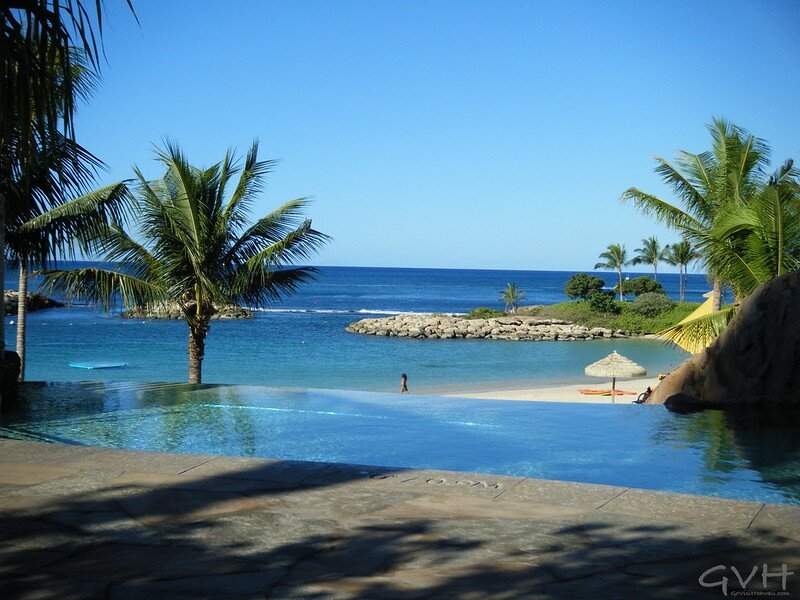 Since our stay, Aulani has added more pools. They've added Ka Maka Grotto with infinity pools. You can look through their photos here.
Turtle Bay Resort
On Oahu's North Shore, Turtle Bay Resort recently completed a substantial renovation to include two new infinity pools.
The new adults-only pool is for guests of the hotel resort. It has an elevated view to the pools and ocean below.
Turtle Bay Resort offers another infinity pool that's for the exclusive use of guests staying in the ocean bungalows.
To learn more about these and other Turtle Bay Resort pools and beaches, see this link.
—
So, that concludes our spin around the Hawaiian islands to look at fabulous infinity pools. For the list of the other islands see this page for the best infinity pools of Hawaii.
The post Best Oahu hotels with infinity pools appeared first on Go Visit Hawaii.