Many readers have commented to us that they've seen negative sentiments aimed at visitors by some Hawaii residents. Much of it seems to be aimed at placing all the blame of Hawaii's COVID-19 cases on visitors.
What does the data say? Does it support that presumption?
No, it does not! In fact, it shows that "non-resident visitors", i.e. tourists, have had the least impact on cases.
Take a look at the graph with the title "How many of the cases were related to Travel?" on this Hawaii COVID-19 data dashboard page. We adjusted that data filter to include all data from the start of the first case in Hawaii and took the following screenshot.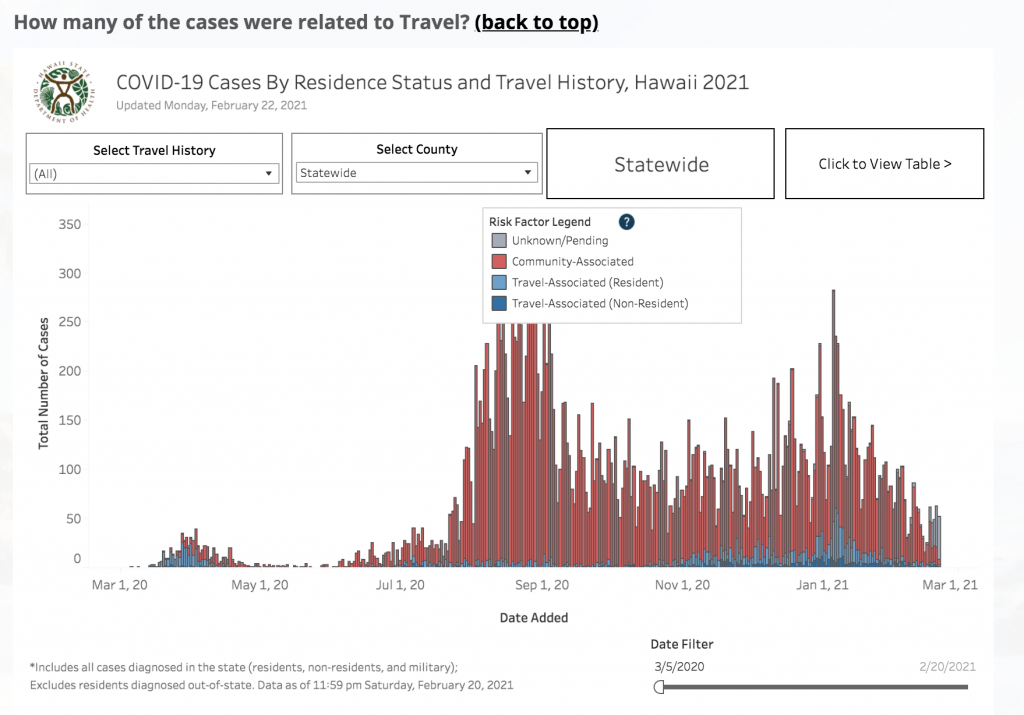 Note that the category of "Travel-Associated (Non-Resident)" represents tourists. It's indicated with the darkest shade of blue. The data indicates that tourists have had the least effect on Hawaii COVID-19 cases.
The other travel-related category, "Travel-Associated (Resident)," has had a greater impact than tourists. Even if you look at the start of the pandemic back in March/April 2020, traveling residents of Hawaii were importing the virus, unfortunately. From the screenshot of the chart, the tourist impact at the early stages is not even discernible in the chart.
As you scan through the chart, there are a couple of important dates to keep in mind:
March 26, 2020 was the date that the mandatory 14-day quarantine for all incoming travelers went into effect.
October 15, 2020 was the date that Hawaii opened to travelers who pre-tested negative for COVID-19.
Hawaii has done an excellent job with COVID-19 data collection and presentation. For more data on the virus in Hawaii, check out their information hub.
The post Data shows tourists visiting Hawaii have least impact on Hawaii COVID-19 cases appeared first on Go Visit Hawaii.