The loss from the Maui wildfires are staggering — lives, homes, businesses, jobs — it's overwhelming. While Maui is still in the process of firefighting, very little has been done to fully assess the damage. It will still take some time to stabilize from this disaster.
On Sunday, August 13, we received an update from the Hawaii Visitors and Convention Bureau (HVCB) and Hawaii Tourism Authority (HTA) advising visitors to forego travel plans to West Maui for the near feature. The latest advice is as follows [emphasis added]:
"In the weeks ahead, the collective resources and attention of the federal, state and county government, the West Maui community, and the travel industry must be focused on the recovery of residents who were forced to evacuate their homes and businesses.
"Visitors with plans to stay in West Maui in the coming weeks and months are urged to consider rescheduling their travel plans for a later time when the overall situation has improved for area residents.
"Hotels in West Maui have temporarily stopped accepting bookings of future reservations. At this time, many hotels are housing their employees and families until the fires in West Maui are fully contained and travel on the roadways is safe. These same hotels are preparing to house evacuees and first responders working on disaster recovery."
From that HTA statement, you can see that there's still a lot of uncertainty. At this point no one is sure when it will be deemed acceptable for visitors to plan to stay in West Maui.
The HTA also noted that "Travel to the other Hawaiian Islands, like Kauaʻi, Oʻahu, Lānaʻi, and Hawaiʻi Island, are not affected at this time."
Let's take a closer look at their statement.
Where is West Maui?
When we first started visiting Maui, we really didn't understand the local descriptions of the geography. To us, it wasn't intuitive. See the following map we created to show where the major resort areas are.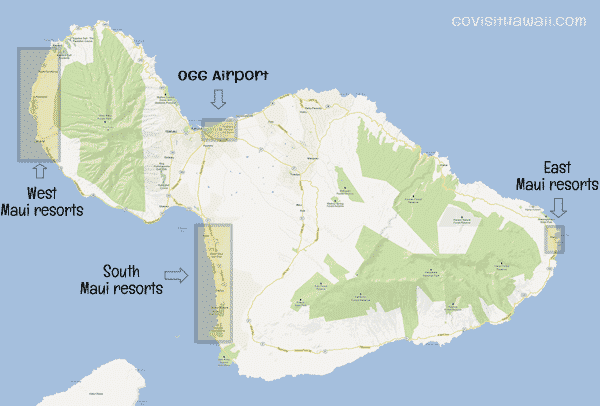 Let's zoom in to the West Maui side to highlight the resort areas – Kapalua, Napili, Kaanapali and Lahaina. West Maui includes all those specific towns/areas and all points in between.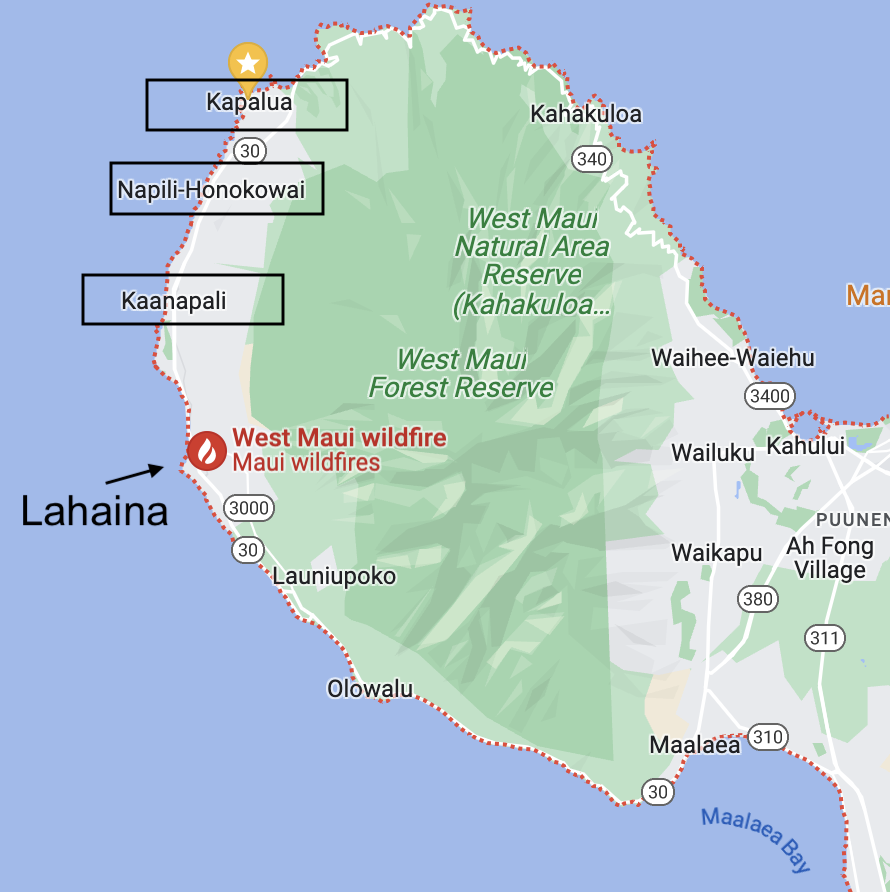 The wildfires essentially consumed Lahaina. Thankfully, Kaanapali, Napaili and Kapalua were mostly untouched by the wildfires.
From the above map, notice that there is only one, main road that goes in and out of Lahaina. That's Highway 30, Honoapi'ilani Highway. It's only a two-lane road. Emergency vehicles and other necessary vehicles need to be prioritized for that limited roadway access
What about South Maui?
The biggest omission in the HTA statement is advice on planning an upcoming stay at South Maui hotels. That area of Maui was mostly unaffected by the wildfires. South Maui hotels are open and operational.
—
Do you have upcoming travel plans to Maui? Do you have questions about your plans and what you should do?
The post "Forego travel plans to West Maui" says Hawaii Tourism Authority appeared first on Go Visit Hawaii.