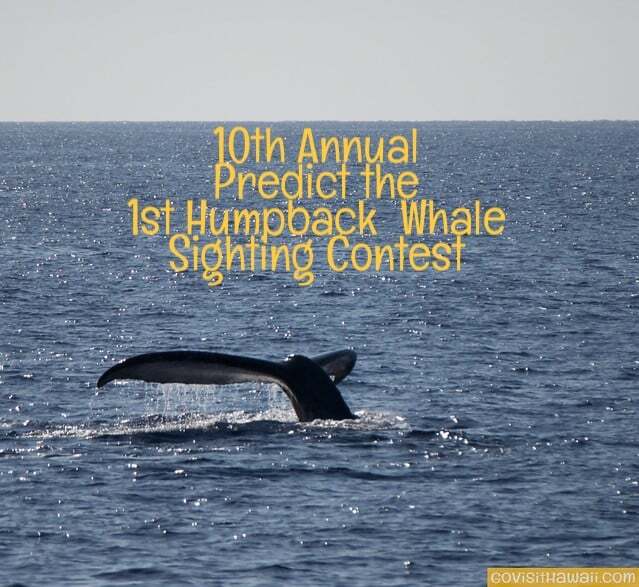 Though Hawaii's exciting humpback whale season doesn't "officially" start until December/January, some whales start their visit sooner. I'm convinced that some whales don't have calendars.

It's quite possible that there are whales swimming towards Hawaii right now. So, it's time to kick off our annual contest to predict the first humpback whale sighting of the 2019/2020 season!
Here's how this easy and fun little contest works:
Pick the earliest date you think the first whale sighting will be this year.  Enter your prediction in the comments for this blog post. (Sorry, but we can't accept guesses emailed to us or comments on Facebook. If you are reading this article on email, go to this post page to enter your comment.)

When entering your comment, you must use a valid email address so that we can contact you when/if your prediction is correct. Note that your email address will not be visible on the comment.
When entering your comment, you can leave the URL/website field empty. That's an optional field for you to use if you have your own website.
Note: if you are a first-time commenter, your comment will first go into moderation. It may take us up to 12 hours to be alerted to it in order to approve it. Then it will display.
The closest prediction without going over will win bragging rights and the prize.
In the event of a tie, we will randomly select a winner from the tied predictions.
We'll use Hawaii newspapers and news stations as our sources to determine the first whale sighting of this season.
One entry per person will be accepted.
Anyone from around the world is eligible to enter. We have a two-time winner from Italy.
Entries will be accepted through September 15, 2019.  In the event that the first whale sighting is before September 15, valid entries will accepted through the day before the reported sighting.
For your reference, here's a list of the first sighting in recent years.
2006 – October 11
2007 – October 7
2008 – October 8
2009 – October 20
2010 – October 20
2011 — September 26
2012 — August  30
2013 — October 5
2014 — September 16
2015 — September 29
2016 – August 25
2017 — October 10
2018 — October 8
In addition to bragging rights, this year's prize is a beautiful collection of greeting cards inspired by flowers from Hawaii. They're illustrated by Hawaii artist Mike Carroll. They are designed as greeting cards,  but are also suitable for framing.
When will the first humpback be seen this upcoming season? Let's hear your predictions!
The post Go Visit Hawaii's 10th annual contest to predict the season's first humpback whale sighting appeared first on Go Visit Hawaii.