Let's look at the recent information regarding Hawaii virus rates and what experts are saying regarding tourism reopening.
Declining Hawaii COVID-19 Cases
After Hawaii's August surge in COVID-19 cases, which prompted a response by the U.S. Surgeon General and a second stay-at-home order, the virus load is trending downwards. The positivity rate is also trending below 5%. More importantly, the state's healthcare system, which was being stretched in part due to a staffing shortage, is in a better position with fewer COVID-19 hospitalizations.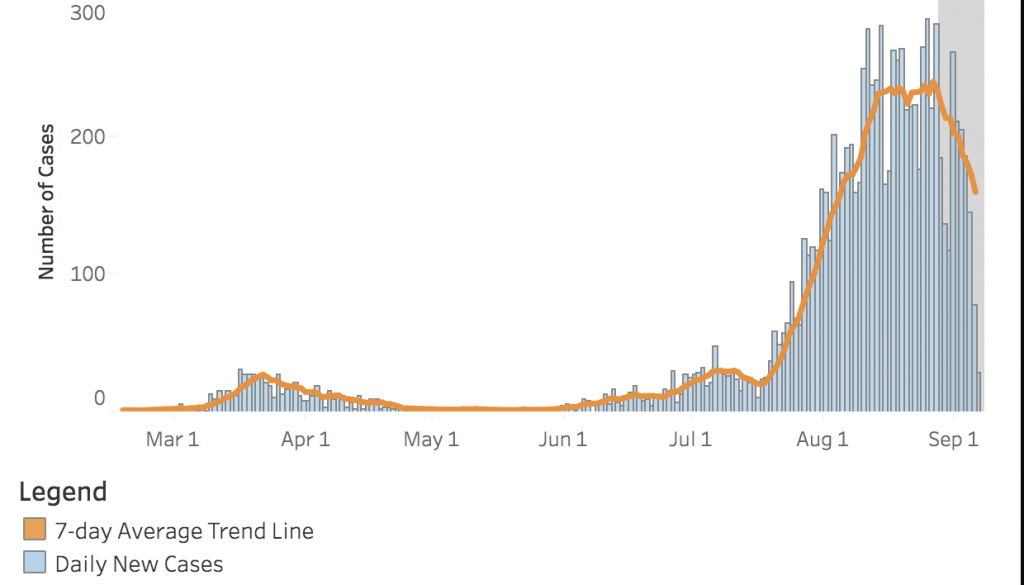 Through September 8, 2020, Hawaii has tallied 10,025 cases, which represents 0.7% of the state's population. Only approximately 31% of those cases are considered to be recovered.
Oahu has experienced that vast majority of cases. The island's mayor extended stay-at-home orders for another two weeks through September 23, 2020.
Will the state open tourism with the pre-travel testing program October 1st?
Perhaps Hawaii's most vocal person throughout this pandemic is Lt. Gov. Josh Green. In an editorial column for the Honolulu Star Advertiser, he outlines his ideas for defeating COVID-19 and the economic impact. He indicates that Hawaii can reopen tourism October 1st with the pre-travel testing program. In another article at the Honolulu Star-Advertiser, he indicates that the pre-arrivals testing plan is ready to go once Gov. Ige approves it. To date, very few details of the pre-travel testing program have been released.
In an article today from The Maui News, Gov. Ige indicates the pre-travel testing program is still on the table, though no timeline was indicated. Here's that excerpt from The Maui News.
Ige said Tuesday that his administration is still moving toward the launch of its trans-Pacific pretravel testing program. He said they've been working on contracts with private partners such as CVS and other pharmacies who could conduct the tests out of state within three days of travelers' departure. They've also been working to update the digital platform for the pretravel testing program.
"All of the activities that we need to have in place to enable pretravel testing are moving ahead full steam, because we do know that bringing back our visitors from around the Pacific is fundamentally important to restarting and encouraging our economy."
Though there appears to be some possible optimism from the governor and  lieutenant governor that the pre-travel testing program can begin October 1st, Hawaii hotels announced more pending layoffs and furlough notices last week. That appears to be lost faith in the reopening plans. Sadly, there's a long list of employers, mostly hospitality-related, who've announced Worker Adjustment and Retraining Notifications (WARN).
Even when the state does open tourism, the number of visitors is expected to be a fraction of what it used to be. Prior to the pandemic 30,000 to 35,000 people arrived in the state each day. Per the Honolulu Star-Advertiser, Mufi Hannemann, president and CEO of the Hawaii Lodging and Tourism Association, says he'd be happy if they hit 5,000 a day at the start of reopening. Lt. Gov. Green thinks arrivals could be in the 6,000 to 8,000 per day range.
Officials say that hotels need four to six-weeks notice to reopen. We're just about three weeks away from October 1st and the pre-arrivals testing plan appears to be in limbo. If everything that's been stated by industry experts holds true, a October 1st start seems unlikely.
The post Hawaii COVID-19 cases trending downward. Will tourism open October 1? appeared first on Go Visit Hawaii.