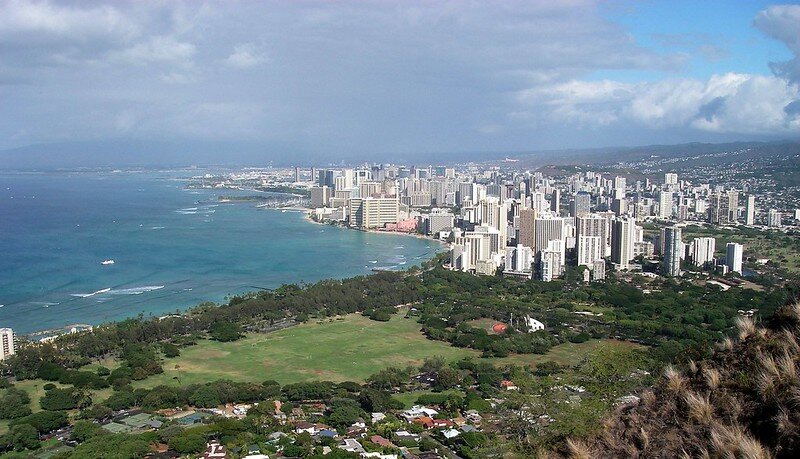 – Diamond Head State Monument will be reopening on Thursday, December 17 after a nine-month closure due to COVID-19. Some new changes come with this long-awaited reopening. The park will only be open Thursdays through Sundays, with the exception of Christmas and New Year's Day holidays. Visitors will be required to practice social distancing and wear face coverings as well. This trail is quite steep — especially at the top near the tunnel. The elevation change is over a short distance, which can make it challenging for the average person — think huffing and puffing even without a mask. Having to wear a mask on top of that will make it even more difficult. From the DLNR announcement,
"The most challenging section along the trail, in which to practice coronavirus safety precautions, is the narrow 200-foot-long tunnel near the top. Visitors must also wear masks in the park and attempt to stay six feet apart from other hikers. State Parks has installed new signs to remind visitors of all public health safety requirements and occupancy limits at the viewpoints along the trail (look for painted boot prints on the concrete). Staff is also asking visitors to be considerate all along the trail and at the summit and to not linger long for photos to avoid clogging the trail and viewpoints."
– With the Diamond Head reopening out-of-state visitors will be expected to pay for their visit, while residents are not required to pay. Fees for visitors recently increased 100% to $5 per individual walk-in and $10 per vehicle.
– Hawaiian Airlines announced these brand new, non-stop routes:
– There's a new Hawaii sweepstakes to win a trip for two to Oahu including flights fro a North America Hawaiian Airlines gateway city, four nights at the Waikiki Beachcomber by Outrigger and tickets to Hawaii Food & Wine Festival's 2021 Launch Event. See this link for entry and more details.
The post Hawaii travel news: Diamond Head to reopen + Hawaiian Airlines adds new routes + Hawaii vacation sweepstakes! appeared first on Go Visit Hawaii.