When most visitors say that they want to visit Pearl Harbor, they really don't have a complete idea of all that Pearl Harbor encompasses. It can be a bit confusing trying to understand it all. Trust me, I know.
In this article, we want to help explain more about the area and what you can see, what needs a reservation and admission.
Here's a little bit of a spoiler alert before we dive into it all. We want you to know that if you don't have a ticket/reservation, don't worry, you can still have a meaningful visit to Pearl Harbor. Please read on!

What is Pearl Harbor?
This naturally occurring harbor is located in Honolulu on the southern coast of Oahu. It is currently both an active military base as well as a national park. Pearl Harbor is most known for the World War II attack on December 7, 1941 — a moment of history that is now recognized annually as National Pearl Harbor Remembrance Day.
For additional insight, we'll quote from PearlHarborHistoricSites.org
"Called Pu'uloa, meaning "long hill," or Wai Momi, literally, "water of pearl," by early Hawaiians, Pearl Harbor, so named because of the abundance of pearls once found within its protected waters, is the largest natural harbor in the State of Hawaii and the number one visitor destination on Oahu.
Today, Pearl Harbor remains an active military base, Headquarters of the Pacific Fleet, and a National Historic Landmark that's home to four unique attractions: from the surprise attack on Pearl Harbor that started it all, to the surrender of the Japanese on the deck of the mighty Battleship Missouri, these four historic sites together tell the story of the War in the Pacific, commemorating the accomplishments of a previous generation.
Located on the island of Oahu, "The Gathering Place," halfway between Japan and the mainland United States, Pearl Harbor will always be a welcoming place where survivors of the attack can reflect on the events which led to the war and which had such a profound impact on the lives of an entire generation."
What are the attractions at Pearl Harbor?
History buffs could easily spend an entire day or more exploring all the museums and attractions at Pearl Harbor. There is much to see and learn! Let's look at the major attractions:
Pearl Harbor National Memorial
Here, you can walk the shoreline grounds to take in the harbor views of the USS Arizona Memorial, USS Bowfin and the Battleship Missouri Memorial. Interpretive signs along the shoreline provide context to the scenery. On top of seeing the harbor, there are museum exhibits with historical information and memorabilia. For a more immersive visit, consider the audio guide that's available to rent on site.
Additionally, at the moment, the park is presenting their exceptionally moving film about the bombing of Pearl Harbor. This film has traditionally been offered only to those who have a  ticket/reservation. Due to COVID-19 precautions, that film is now being showing in an open-air lanai. It's currently open for all visitors to see whether you have a ticket/reservation or not.
This national park site is free to visit and no reservations are required. Even if you cannot obtain a reservation/ticket to visit the USS Arizona Memorial, seeing the Pearl Harbor national Memorial Park is still very much worth the visit! See the park's website for more details on the park and planning your visit.
USS Arizona Memorial
The USS Arizona Memorial hovers over the sunken battleship, which also serves as the final resting place for more than a thousand brave souls who fought til the end to protect the ship and harbor. It is a very moving site to visit and to pay honor to all who fought for her.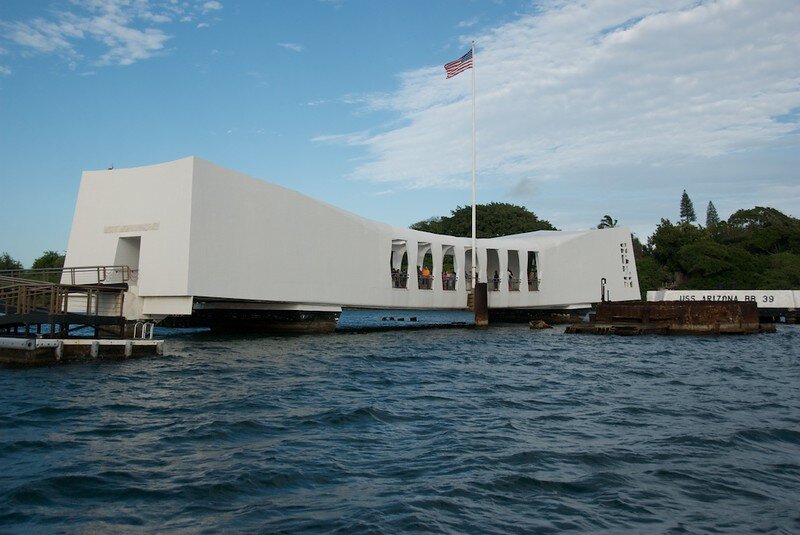 To access the memorial, it is necessary to take a boat ride from the Pearl Harbor National Memorial grounds. To be able to take this boat ride, you need a pre-reserved ticket for the "USS Arizona Memorial Program." Admission to the memorial is technically free, however, to secure a slot to go to the memorial, a fee is $1 per reservation is required.
We searched for the best explanation for advice for the current reservation process. This Facebook post seems to be the best place for information. These processes are subject to change, so also check the park's website for current policies.
Note that visitors without reservations may standby for potential openings. That's not ideal and unfortunately, you may end up waiting in vain.
Summer is Hawaii's busiest tourist season. In a Pearl Harbor National Memorial post, they indicated that Oahu anticipates 13,000 visitor arrivals per day this summer. The Arizona Memorial only releases 1,800 program reservations per day to the public. So, you can see  reservations are in very high demand.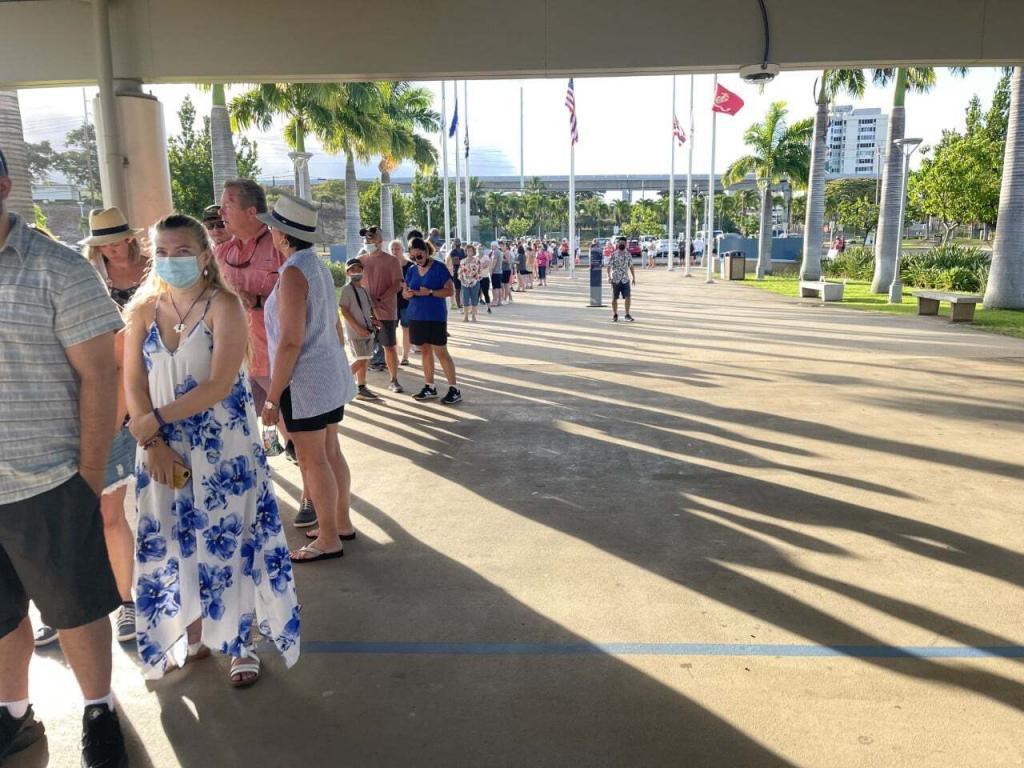 What if you are unable to make a reservation, but you really, really, really want to go to the USS Arizona Memorial? Well, there's a very simple, though pricier solution — book a guided tour. Some tour companies have contracts with the national park service for a certain amount of ticketed reservations for the boat ride to the memorial. Obviously, you'll play more, but there's also peace of mind in having a secured visit along with the convenience.
USS Bowfin Submarine Museum and Park
The USS Bowfin is a submarine memorial that was launched in World War II. This sub has been dubbed the Pearl Harbor Avenger.
The USS Bowfin is located in the same general area as the Pearl Harbor National Memorial.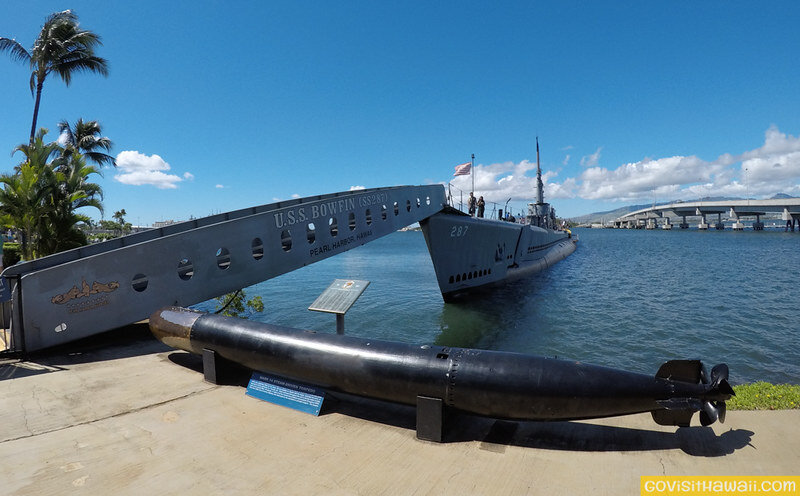 Though you can see the USS Bowfin from the Pearl Harbor shoreline, an admission fee is required to tour the submarine and visit the Pacific Feet Submarine Museum. No reservations are necessary.
See our tour of the USS Bowfin for more of our insights.
Battleship Missouri Memorial – Mighty Mo
This battleship was commissioned during World War II and was in action up through Operation Desert Shield/Operation Desert Storm. One very pivotal moment the Missouri served was hosting the Japanese Surrender Ceremony in World War II. You can read more about the history of the USS Missouri here.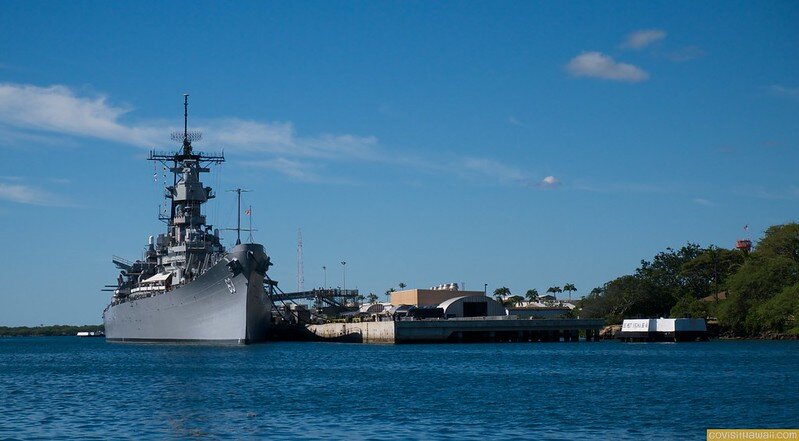 The battleship now rests peacefully in the waters of Pearl Harbor, just off Ford Island. This memorial battleship is open daily for tours and exploration. No reservations are required, however there is an admission fee. See USSMissouri.org for more information on visiting this ship.
Note: to access the Battleship Missouri Memorial, you will need to park at the Pearl Harbor National Memorial parking lot. (Parking is currently free.) Look for the shuttle bus terminal that's located behind the Bowfin. The shuttle bus will take you directly to the Battleship Missouri Memorial.
Pearl Harbor Aviation Museum
The Pearl Harbor Aviation Museum houses dozens upon dozens of aircraft used in military service over the decades. It's a neat experience to see so many and to stand right beside them.
An admission fee is required, though no reservations are necessary.
This museum located on Ford Island and requires the same shuttle service that we describe above in the Battleship Missouri Memorial section.
Read our insights and see our short video tour of Pearl Harbor Aviation Museum.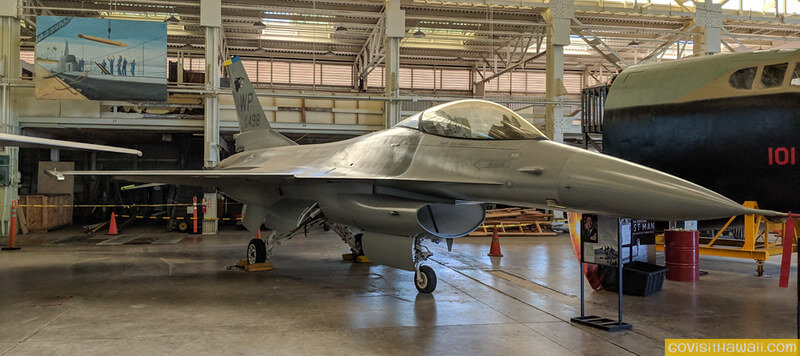 —
So, hopefully now you have a better understanding of Pearl Harbor and its historical memorials and attractions. We hope you have a better appreciation of how rich this site is in history.
Have you been to Pearl Harbor? Which of these sites did you visit?
The post If you can't get a USS Arizona Memorial reservation, can you still see/visit Pearl Harbor? appeared first on Go Visit Hawaii.