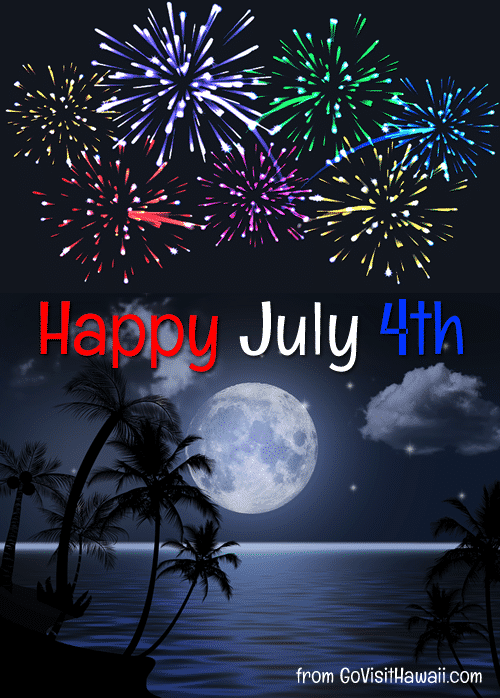 Independence Day is celebrated widely across America's 50th state, Hawaii. You'll find parades, games, a rodeo and of course big fireworks shows on all four of the major islands.
Here are highlights of some of the fun to be had in Hawaii this July 4th:
Oahu
Ala Moana Center hosts one of the top 25 firework shows in the nation. This year they're celebrating their 60th anniversary, so the fireworks show will be synchronized to popular melodies form the past six decades. The entertainment and fireworks are free and open to the public.
Up on the North Shore, the Hukilau Marketplace at the Polynesian Cultural Center is hosting their second annual 4th of July Fireworks and Concert that's free and open to the public.
Pearl Harbor is quite a patriotic place in Hawaii. As such, it's great that there will be special July 4th events and a firework show at the harbor. You can enjoy a picnic and live music before the fireworks show on the pier of the Battleship Missouri Memorial. Guests can also take complimentary tours of the Mighty Mo. Tickets are required for this event.
For a more complete list Oahu island happenings, see our Oahu July 4th page.
Maui
The island's biggest July 4th event and fireworks show is hosted by historic Lahaina town. For some suggestions about how to catch the big fireworks show, see our Maui July 4th page.
Hawaii (Big) Island
Of course Hawaii's largest island of all will have big Independence Day celebrations. You can catch a rodeo, enter a rubber duckie race, see a parade and watch fireworks all in the same day. Free public fireworks shows are planned in Waikoloa Beach Resort, Kailua Kona town and in Hilo. See our Hawaii (Big) Island July 4th page for more events and details.
Kauai
The garden isle's longest running July 4th event is the annual Concert in the Sky, which includes live entertainment and a big fireworks show. Ticket purchase is necessary.
The community of Kekaha is planning a full day of games, fun and evening fireworks. This event is free and open to the public.
For more events and details see our Kauai July 4th page.
—
Happy July 4th!
The post Independence Day in Hawaii appeared first on Go Visit Hawaii.