We have quite a bit of news to share on this last Aloha Friday of 2021.
Proof of boosters to be required for indoor dining, bars in Maui County starting January 8, 2022
Effective January 8, 2022, Maui will change their rules for patrons wishing to dine at a restaurant or go to a bar that is indoors. The biggest change is that customers who are eligible for a booster must show proof of vaccination plus booster for entry. Proof of a negative COVID test taken within 48 hours, regardless of vaccination status, will also be accepted for entry. This rule applies to all persons who are age 12 years and up. Note that these rules apply to indoor restaurants, bars, etc.
Here are some of the more important excerpts from the newest issue of Maui public health emergency rules.
"… businesses and activity organizers must ensure that all customers or participants, as applicable, 12 years of age and older, are fully vaccinated or provide proof of a negative COVID-19 test result taken within 48 hours of entry into the premises, and identification bearing the same identifying information as the vaccination or negative COVID-19 test, which must be an FDA approved or FDA EUA approved molecular or antigen test. Businesses shall verify vaccination or test status and identification through government or school-issued identification."
…
"People are considered fully vaccinated for COVID-19 when more than two weeks have passed since receiving the second dose in a two-dose series, or more than two weeks after they have received a single-dose vaccine, and have received a booster vaccination if eligible. . "Eligible" for vaccination booster means that 6 months have passed since receipt of the second dose of Moderna or Pfizer or 2 months have passed since receipt of the initial single-dose Johnson & Johnson vaccine. The requirement for a booster does not apply to those who are under age 16 for Pfizer and under age 18 for Moderna. A completed vaccination card (which includes name of person vaccinated, type of vaccine provided and dates of doses administered) in original, photocopied, or digital form; the Hawaii SMART Health Card digital health pass; or other similar vaccination documentation from a healthcare provider are acceptable proof of vaccination.
"Proof of full vaccination includes FDA approved and authorized vaccines, as well as vaccines that have an Emergency Use Listing (EUL) from the World Health Organization. CDC guidance describing which vaccines qualify people as fully vaccinated and how to interpret vaccine records may be found at https://www.cdc.gov/coronavirus/2019-ncov/vaccines/fully-vaccinatedguidance.html#annex. Operators may collect the above acceptable proof of vaccination prior to indoor events. "
For more information about these rules, check this Maui County public Health Emergency Rules document as well as the Maui County website.
Lt. Gov. Green calling for changes to the Hawaii Safe Travels program to include boosters
Lt. Gov. Green says he thinks the Safe Travels Hawaii program should be adjusted such that boosters required for the vaccination quarantine exemption. In a short video interview posted by KITV, Green says, "you should either be boosted or tested." We'll be watching for these potential changes to the program.
Hawaii records highest number of COVID cases on December 30
Unfortunately, Hawaii reached yet another record number of COVID cases yesterday at 3,484 cases.
CDC advises travelers to avoid cruise travel
As COVID cases continue to rise on cruise ships, the CDC issued a new warning to avoid cruise travel. See this USA Today article for more details.
Aloha Friday Photo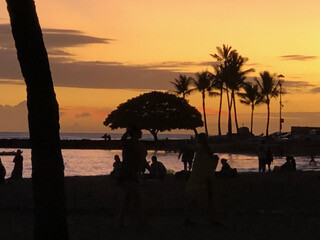 Mahalo to S. Kinder for sharing this lovely sunset shot with us for Aloha Friday Photos. We were told that it was taken in October 2019 from the Hilton Hawaiian Village. What a great scene. We love the silhouettes of the trees and of the people enjoying the last daylight moments along the shoreline.
The post Maui to change vaccination requirements for entry in restaurants + Hawaii's Safe Travels program may change+ Aloha Friday Photo appeared first on Go Visit Hawaii.