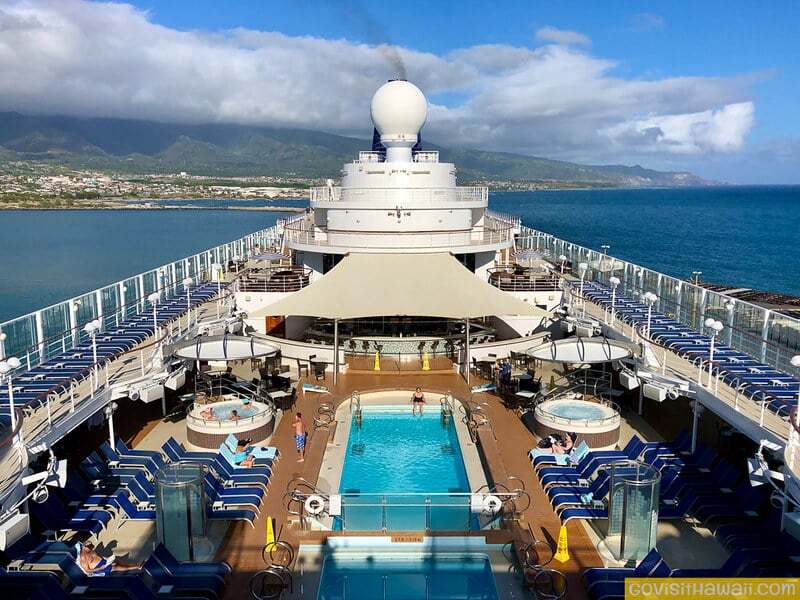 We cruised through the Hawaiian Islands on Norwegian's Pride of America in October 2019.
What did we think of the experience?
We'll share all the details, but if this is TLDR, the skinny is that the cruise itinerary is excellent, the destinations are amazing, the cabins are adequate, the food experience was sub par. Check out our video overview from our Pride of America cruise of Hawaii.
The NCL Pride of America Hawaii Itinerary
Possibly one of the very best aspects of the Norwegian Cruise Line's Pride of America Hawaii cruise is the itinerary. It starts in Honolulu on Oahu on Saturday, sails to Maui by Monday morning and stays overnight in Maui. Next, the cruise moves to Hawaii, the Big Island with a day in Hilo followed by a day in Kona. From there, the cruise goes to Kauai with an overnight stay there. The cruise finishes with a scenic cruise of Kauai's Na Pali Coast, then goes back to Honolulu, Oahu to disembark. This Saturday to Saturday itinerary is repeated week after week.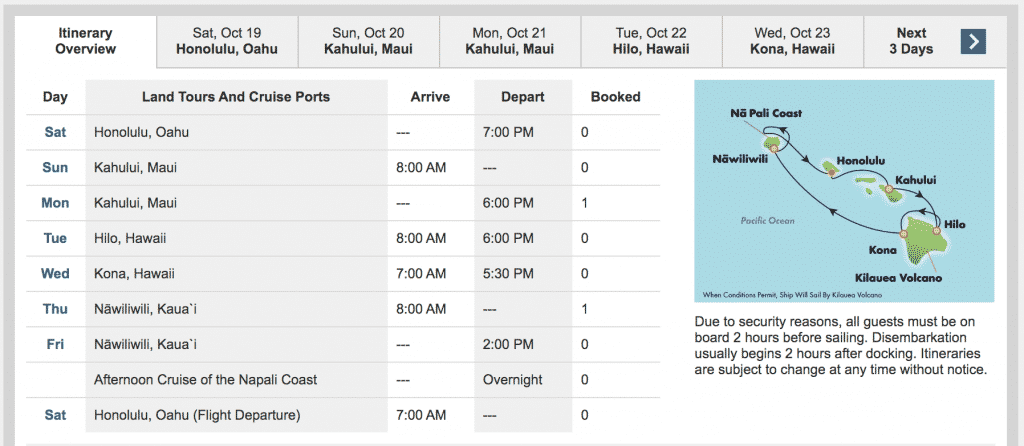 So, the NCL Pride of America itinerary includes all of the four major Hawaiian Islands – Maui, Kauai, Hawaii's Big Island, and Oahu, but there's not much time to explore Oahu within the cruise itinerary, so we recommend extending your stay on Oahu by a night or two at a hotel — either on the front-end or the back-end of the cruise.
If you've never been to Hawaii or tend to just go to one of the islands, this itinerary is a very good one. The Pride of America itinerary is especially good if you're short on time and you want to get a taste of each of the four major islands. It's a very efficient itinerary in that you travel from island to island while you're having dinner, enjoying evening entertainment and sleeping.
The Destinations with Pride of America
Hawaii is an outstanding destination with so much beauty and culture. Though there's little time to explore the embarkation/disembarkation port of Honolulu on Oahu, there's a good amount of time to discover the three other major islands — Maui, Hawaii (Big) Island and Kauai. Actually there are two days each at those islands, which is double what you'd find on other cruises to Hawaii.
Each Hawaiian island has its own features and personalities. It's definitely not the case that if you've seen one island, you've seen them all. Every island is amazing with way more to explore than the allotted time. So, the destinations of the Pride of America are all excellent!
NCL's Pride of America's Major Advantage – No days at sea – All Hawaii all year longor!
Norwegian Cruise Line's Pride of America is the only ship that sails roundtrip solely within Hawaii. There are no days a sea on the Pride of America and every day is spent in Hawaii.
For any other ship or cruise line, they must sail to Hawaii from faraway destinations, such as from the west coast of North America, French Polynesia, Asia, Australia or New Zealand. For travel from those destinations, those ships will be in transit, at sea, for at least four or five days. That's a lot of days at sea!
For comparison, I looked at the itinerary of another NCL cruise to Hawaii on their ship the Norwegian Jewel. It's an 11-day cruise from Vancouver. This cruise is fairly representative of other cruises that don't start and stop in Hawaii like NCL's Pride of America. Here's a screenshot of that itinerary: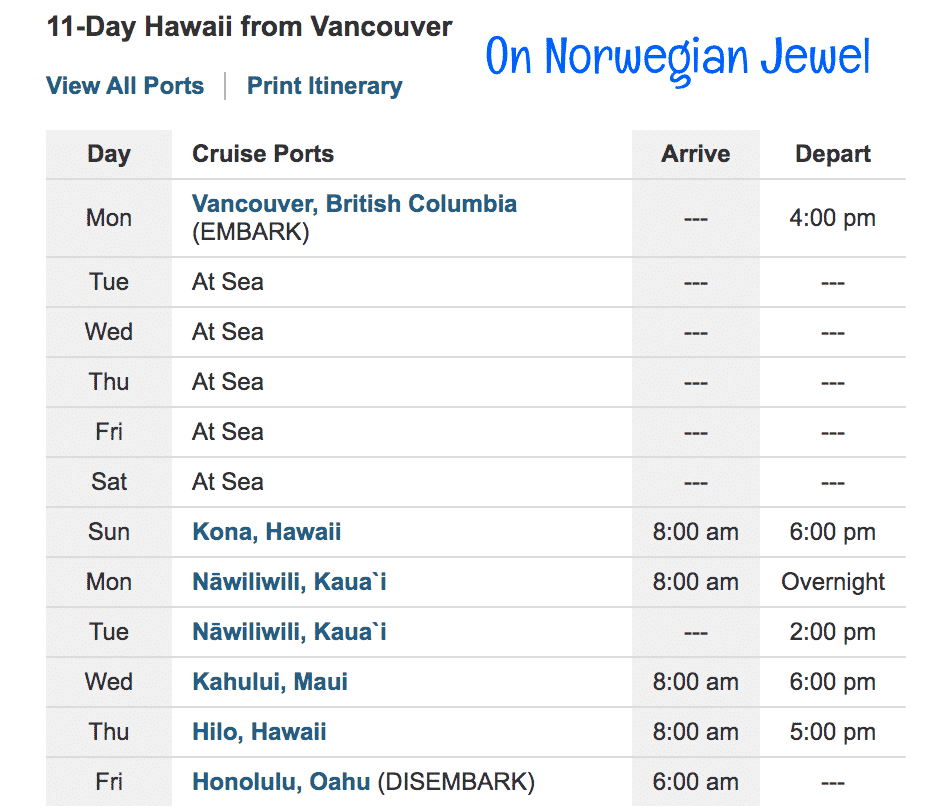 Notice that on this Norwegian Jewel itinerary, there are five, full days at sea and only five days actually in Hawaii, with a disembarkation morning on Oahu. That's a lot of travel time and distance for not many days in Hawaii!
How much can you see of Hawaii on a one-week cruise itinerary?
With any cruise in Hawaii, you're only going to get to see a few highlights of each island and that's it. There's far more to see and do on every island than what can be toured in just one or even two days! We've created some excellent week-long vacation itineraries for each Hawaiian Island. Even with a week on each island, you're no going to get to do "everything" the islands' have to offer. We've lost count of the number of times we've been to Hawaii and we experience something new every time. So, with a cruise, you should set your expectations that you're going to get to see some amazing places, but you're not going to get to do everything.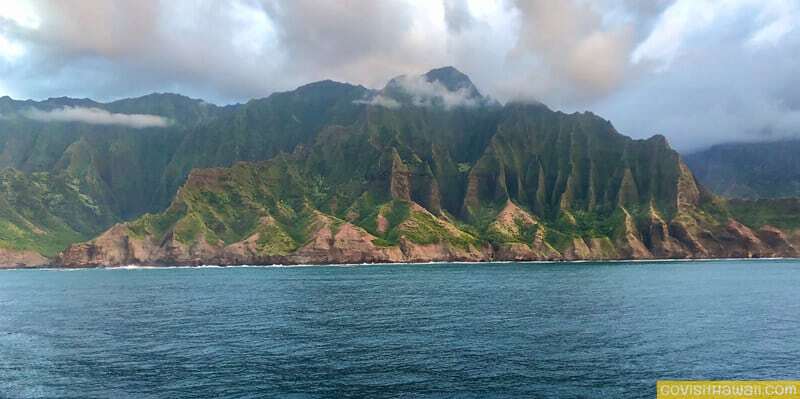 NCL Pride of America Ship Overview
The ship accommodates over 2,100 passengers. For a "floating hotel" of that size, it never really felt crowded, except for the arrival at Kona, when there were long, crowded waits for the tender boats to shuttle us from the ship to shore.
The ship was fairly well kept. In some ways, the Pride of America looked brand new – especially in the common areas such as dining rooms, shops, guest relations, hallways, etc. The ship was built in 2005 and refurbished in 2016.
Most of the common areas of the ship are decorated with bright, exciting colors. Generally speaking, the decor was in good taste and reflected the excitement and adventure of a cruise.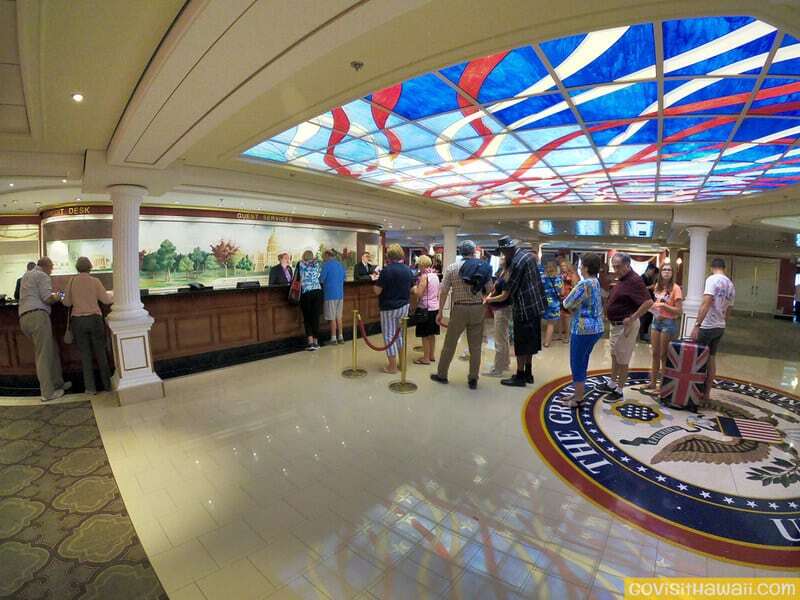 Decor-wise, we liked the restaurants and lounges that had a "Hawaiian-feel" to them, but there weren't many places onboard like that. The Aloha Cafe, the main buffet restaurant of the ship, had some Hawaiian touches. We normally grabbed breakfast from here and took it out to the adjacent Aloha Lana'i Bar seating, which is alfresco. Pinks Champagne Lounge seemed to be an ode to the Royal Hawaiian hotel. For a ship that's dedicated to sailing within the Hawaiian Islands every day of the year for many years, it sure could use more Hawaiian or tropical decor.
There are some odd themes on the Pride of America, too. For example, there's a Gold Rush Saloon, decorated in a rustic, old west, 1800s style. It really felt out of place on a ship that only circles the Hawaiian Islands. The ship has two main restaurants, Liberty and Skyline. Liberty is decorated like something out of Washington D.C. with velvet and sequined drapes. Skyline is decorated like something you would see in an art deco style building in New York City. That was all interesting decor, but seemed really out of place for Hawaii.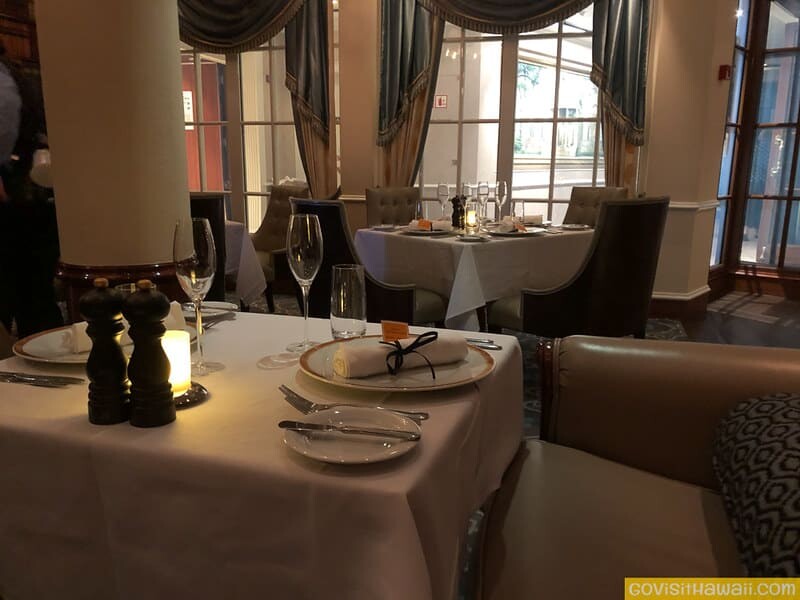 If the ship could change anything structurally, which is extremely unlikely, we would suggest more elevators. At peak times of island arrivals and returns from tours, there could be long elevator waits. Many times, we opted to climb up or down four or five deck levels instead of waiting for the elevators.
Staterooms on the Pride of America
The Pride of America has many stateroom options, from a studio that's designed for the solo traveler, balcony rooms and for the posh experience, suites. While a limited number of staterooms can accommodate up to eight people, most comfortably accommodate two people.
There are quite a few options, from interior rooms without views, rooms with picture windows and rooms with balconies. Some rooms with windows or balconies have obstructed views and are noted in the room category.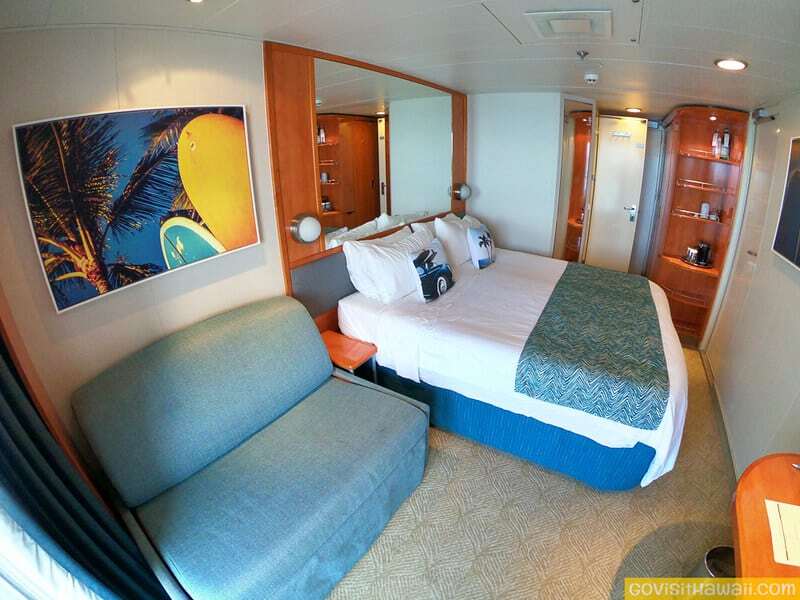 We chose a balcony room with a non-obstructed view for our cruise. We were assigned to stateroom 8630. While it's considered a non-obstructed room, we felt that the view of the lifeboat wasn't exactly unobstructed. We didn't complain, but we were disappointed.
For a quick overview, check out our video tour of our balcony stateroom on the Pride of America:
Our balcony room sleeps two people comfortably and a third with the pull out sofa bed. It's difficult for us to imagine trying to fit a third person in the room. It would definitely be tight particularly if the third person is a teen or adult.
The bathroom is quite small with limited storage space. The shower space is also very confined.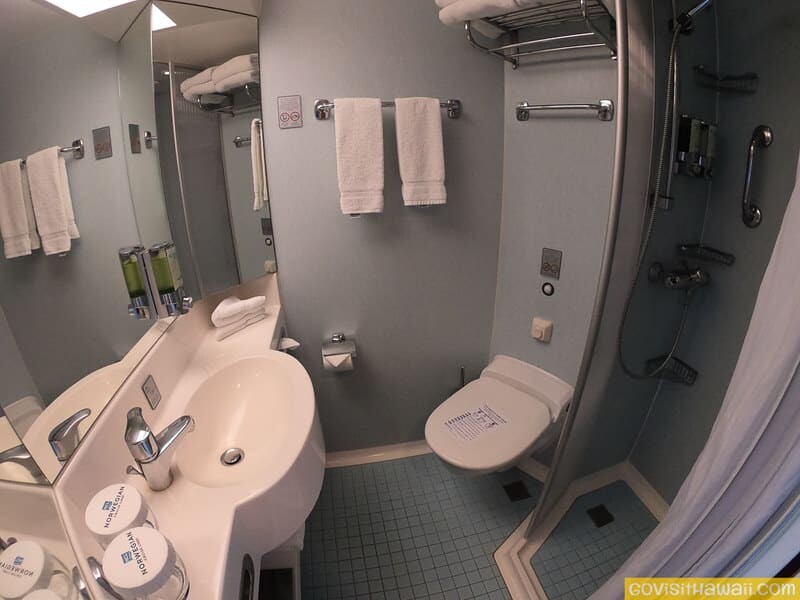 The ship provides soap and shampoo in dispenser containers. It's nice that you don't have to worry about individual plastic containers and that's a win for the environment. These toiletries were branded by NCL. It would have been better to have had a name brand soap and shampoo or something with a tropical scent to fit the Hawaiian Islands, instead of of what appears as a mass-produced, inexpensive product.
Our room seemed clean enough, though not overly so. I wiped off the little desk/vanity shelf to remove some powder I had dropped and a lot more dirt and gunk came off than just the powder I spilled. Also, the sofa was stained. Overall, the cleanliness of the room wasn't horrible, but still left me questioning how much the room actually gets cleaned in between guests.
Our room adjoined to the room next door. We could hear talking, coughing, etc from that room.
The ship's plumbing seemed to be an issue occasionally. Sometimes we had issues flushing the toilet and once in the middle of the night, we didn't have any water at all.
Dining and Drinking Aboard the Pride of America
Norwegian Cruise Line is known for their "freestyle" dining. You can dine when you like, where you like and with who you like. You are not limited to a set dining time or assigned to a group table.
A limited number of beverages are included in the standard cruise fare. Regular coffee, tea and ice water are generally your only "free" options, except some fruit juices at the breakfast buffet. The package we booked included a free perk of the "Hawaii Beverage Package" which included bottled water, sodas, beer, wine and mixed-drinks up to $15. A 20% service charge was applied to our package prior to the cruise. We were glad to have the beverage package.
The Pride of America offers plenty of restaurants and lounges to enjoy throughout the one-week itinerary. If you prefer casual fare, they've got it. If you want a more upscale meal, they've got that, too. This link describes all the complimentary (included in your cruise) restaurants on board and this link lists the specialty ($) dining options.
The complimentary main dining rooms of Liberty and Skyline were not as upscale as we've experienced on other cruise lines. We heard other passengers sharing similar sentiments. I'll give an example from just one dinner at Skyline:
My glass was chipped and cut my lip.
I ordered a pork chop that must have been microwaved to re-heat it as it was super hot, tough and chewy. Even the flavor seemed missing. I only ate a few bites.
I ordered a warm apple dessert. It was served cold.
So, those were all kind of first-world problems, but still, when you're paying for a good experience and not getting it, it's disappointing.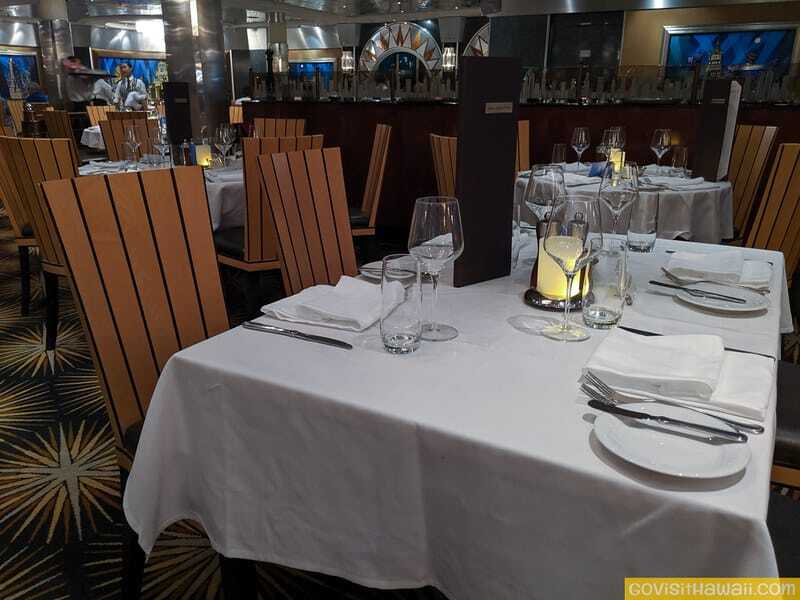 Our travel package included three specialty dining options. We're glad that we had those options as the better food is definitely in the specialty restaurants. Jefferson's Bistro, the French restaurant, was our favorite and the best meal we had on the ship. Cagney's Steakhouse was good, and the only restaurant that we found that had lobster, but the service was very slow and our server got our order mixed up. I think our server must have been stretched too thin. At the Teppanyaki restaurant, our chef put on a great show, but the food was just okay.
For convenience, you can book reservations for both the specialty and the complimentary restaurants. We recommend booking your specialty restaurant reservations within the first day or two of boarding to make sure you get the time and day you want. You can book reservations during specific hours beside the Guest Relations desk. (Note that the off-site luau excursion is held on the overnight day on Kauai. If you plan to go to the luau, keep that evening open from dinner reservations on the ship.)
We only ate lunch on board one day. Most of the excursions we took were quite long and included lunch.
The islands of Hawaii have wonderful food. We always enjoy Hawaii regional cuisine at restaurants in Hawaii, but we didn't find anything like that on the ship. At the Aloha Cafe on the final evening, they tried to have a "Taste of Hawaii" dinner, but it was disappointing. So, from a culinary standpoint, the ship doesn't offer a true Hawaiian experience.
Overall, the food was edible, but far from being memorable. The waitstaff seemed to want to provide a good experience, but they also seemed very stretched trying to take care of so many other guests at the same time. With dining being such a big part of most people's expectations of cruise, we felt that Norwegian fell short.
Pride of America Entertainment and Activities
The Pride of America offers quite a bit of entertainment and activities. The "Freestyle Daily" lists the complete schedule of what's happening each day. There's so much going on — Hawaiian cultural lessons, culinary demonstrations, cornhole tournaments, trivia, live music, pool games, dance classes, karaoke and much more. If you are traveling with children or teens, the ship offers youth programs.
Unfortunately, our full days of exploring the islands plus our jet lag got the best of us most evenings. We usually went to sleep shortly after having dinner. So we didn't get to catch one of the evening shows in the Hollywood Theater. We especially wanted to see the Aloha Polynesia show, which sounds like the type of show you'd find at a luau.
Spa and Fitness on Pride of America
For some pampering, there is a spa onboard. Their menu includes several massage and facial offerings.
The fitness center is by far the largest we've ever seen on a cruise ship. It was stocked with quality equipment. It was also one of the most sparsely populated areas of the ship. In addition to the fitness center, water aerobics was offered at the pool.
Hawaiian Influences on the Pride of America
We were pleased to find several Hawaiian influences during our cruise. Here's what we found:
Passengers are greeted with a lei at embarkation.
A dedicated Hawaiian Ambassador was on board to introduce passengers to the Hawaiian culture. He taught lei-making classes, hula dancing and narrated the ship's tour of the Na Pali Coast.
You can enjoy live bands playing Hawaiian music on most days.
Most of the staff wore a Hawaiian shirt and/or lei and often greeted passengers with an "Aloha."
Stateroom decor have artwork and/or fabrics with beach-y influences.
Excursions from the NCL Pride of America
NCL has done a nice job curating their menu of excursions to suit both the adventure seeker and the casual sightseer. For adventures, there's hiking, zip lining, kayaking and snorkeling. For the sightseer, there are many tours filled with amazing island scenery that hit some of each island's highlights. Skim through this link for some examples of the excursions offered through NCL.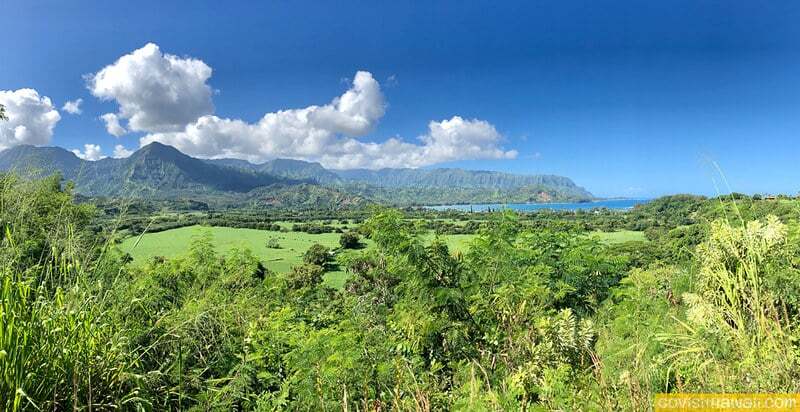 We enjoyed a mix of excursions offered through Norwegian Cruise Line and some that we booked independently. We enjoyed them all. We'll be writing more about excursion selections and our recommendations to help you get the most out of your limited time and vacation budget. Stay tuned!
We did some price comparison between what the ship offered and what we could find independently. The ship's prices were always more expensive. We noticed that the closer that we got to our sailing date, the prices of the excursions increased.
The ship heavily pushes the Luau Kalamaku on Kauai. I heard mixed reviews from fellow passengers.
Pride of America Video Overview
For more insight into the cruise experience, check out our Pride of America Hawaii cruise video.
Miscellaneous notes:
You can look through more of our photos here.
The Pride of America falls under the Jones Act, which requires that the crew consists of at least 75% U.S. citizens.
The ship has some shops where you can buy souvenirs, clothes with "Hawaiian" prints and sundry items.
There's a library onboard.
There's a photography center.
There is no casino on Pride of America.
A tent was stationed at the end of the gangway at each port to sign out beach towels.
We booked our cruise through Costco Travel.
As is common with most cruises throughout the world, most of the dock locations were more industrial than scenic. Oftentimes there was a flurry of fork lift activity going on near our docked location.
In Kona, there is no cruise ship dock, so passengers are transported by tender/lifeboats to the shore.
We were glad that we had a port side cabin on the day of the Na Pali Coast tour as we only had to step out onto our balcony to enjoy the scenery.
The best opportunities to enjoy a Hawaiian sunset are from Kona and after the Na Pali Coast cruise on the final evening.
If you have questions about this cruise, check out NCL's FAQs.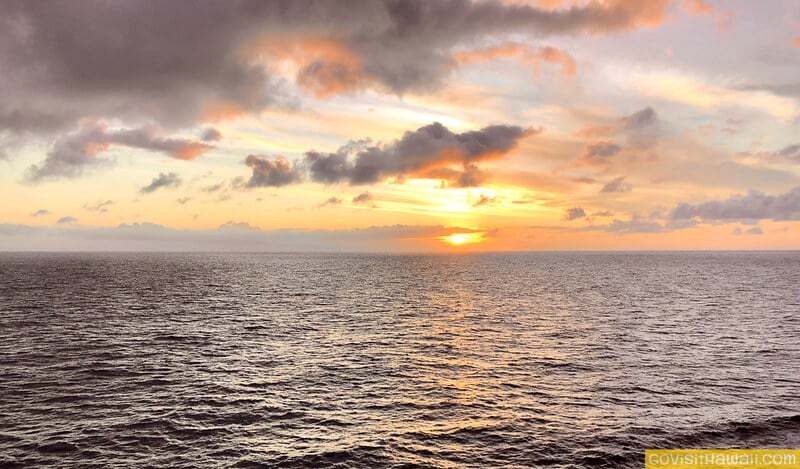 Final thoughts on our Pride of America cruise of Hawaii
The itinerary is excellent and the island destinations are fantastic. It's a great way to see the four major islands in seven nights, though, as the itinerary is planned, there's practically no sightseeing time for Oahu.
The food and service were unfortunately sub par.
The stateroom cabins are compact, but okay.
Our cruise fare with a balcony room, the beverage package, speciality dining package and some nominal credits totaled $4,768 for the two of us. That does not include excursions. That's quiet a hefty price for seven nights. In my opinion, that's not a good value. The food and stateroom experience felt budget-level, but the cruise cost was far from being a budget price.
Have you taken the Pride of America cruise in Hawaii? How was your experience?
The post Review of NCL Pride of America cruise around Hawaii appeared first on Go Visit Hawaii.