Hawaii has some lovely, historic churches to see as you visit the islands. Many of the churches we're highlighting in this article were built in the 1800s or early 1900s. So, let's take a brief spin around the Hawaiian Islands to see some beautiful churches.
Kaua'i
Let's start this photo tour on Kauai at the picturesque town of Hanalei. Wai'oli Hui'ia Church definitely catches the eye as you drive through Hanalei. According to Google, Wai'oli Hui'ia Church was "originally established in 1834 by Christian Missionaries, is the oldest established church in Kaua`i."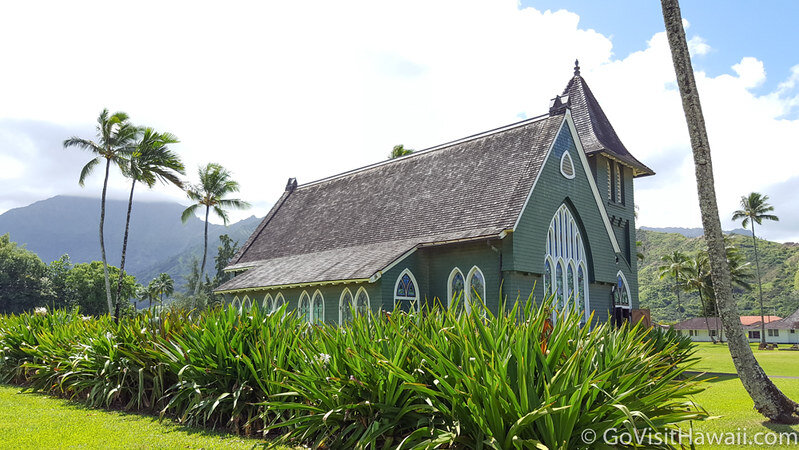 The green paint of this church blends well with all the surrounding, natural shades of green.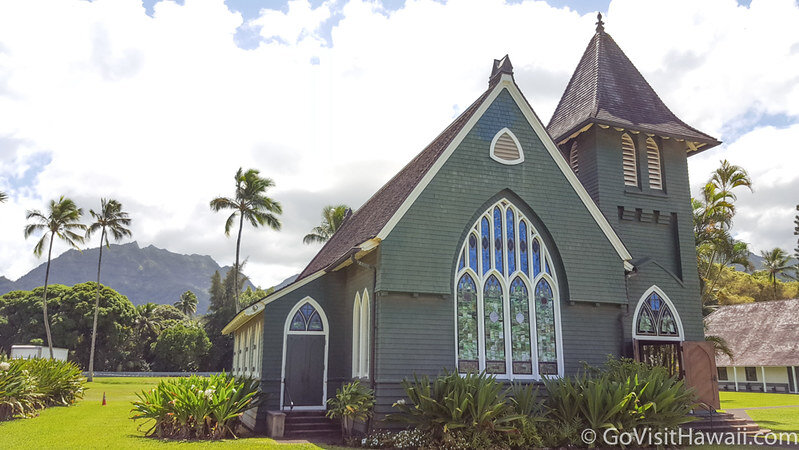 Oahu
Downtown Honolulu hosts Oahu's oldest church, Kawaiaha'o Church. Though the Kawaiaha'o community of faith was established in 1820, the church building was not built until sometime between 1936 and 1842.  Kawaiaha'o Church is referred to as the "Westminster Abby of Hawaii." Learn more about its history here and here.
Take a look at the stonework. Though it may look like bricks, it's actually made of coral stones.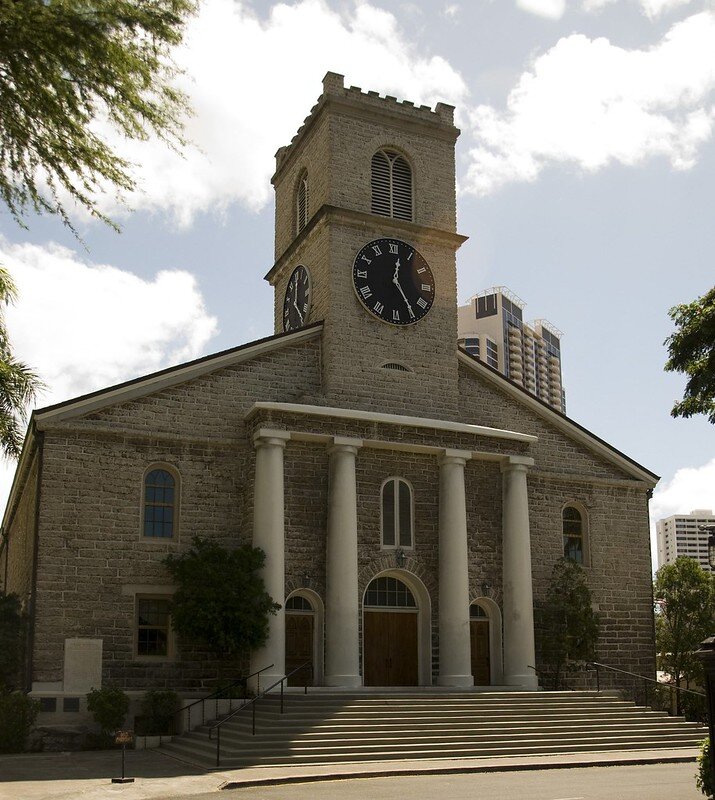 Molokai
The island of Molokai has many historic churches both in the Kalapana peninsula and "topside" Molokai areas. As Saint Damien was credited with building several churches on Molokai, we'll feature this quaint church, Saint Joseph Church, built by Saint Damien in 1876. This church is located just off Highway 450, east of Kaunakakai town.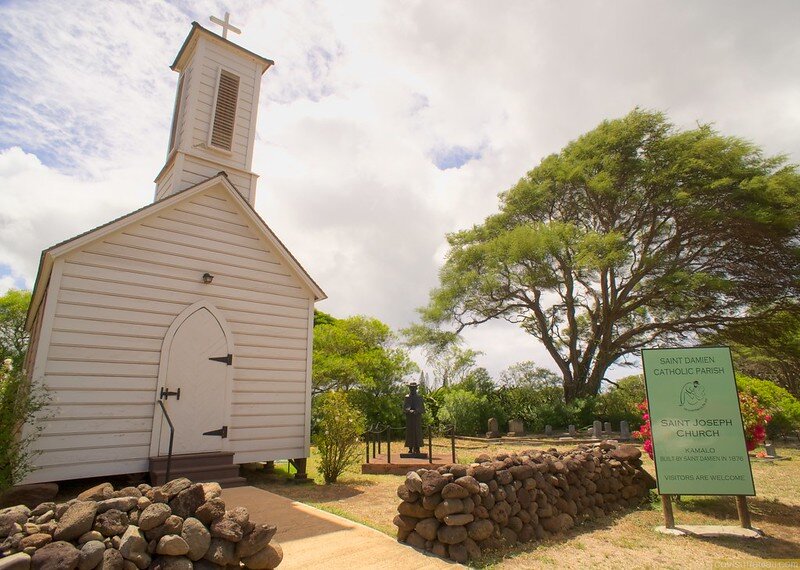 Lana'i
The churches we've featured so far are still in an active status, but for Lana'i, we're focusing in on the remaining shell of Ka Lanakila Church in the deserted village of Keomoku. The plantation village of Keomoku, on the east side of Lana'i, was active in the early 1900s, but wasn't able to sustain a community and economy. Though few remnants remain of Keomoku, Ka Lanakila Church is still standing and continues to be cared for by the community.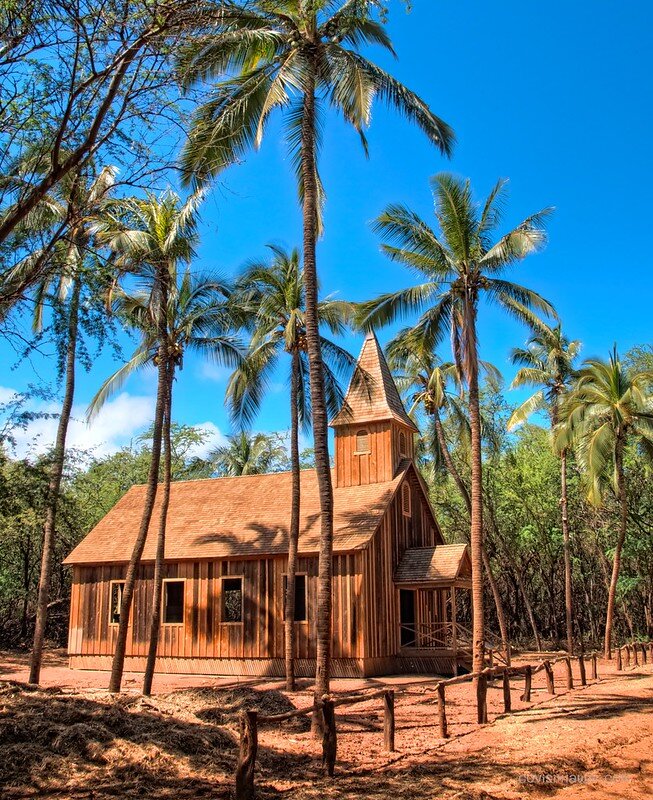 So, we've only been featuring one church per island, but I'm going to sneak in another one because it's one of my favorite sunset shots from our Hawaii travels. It's the steeple of Lokahi O Ka Malamalama Church beside the Sensei Lanai Four Seasons Resort in Koele.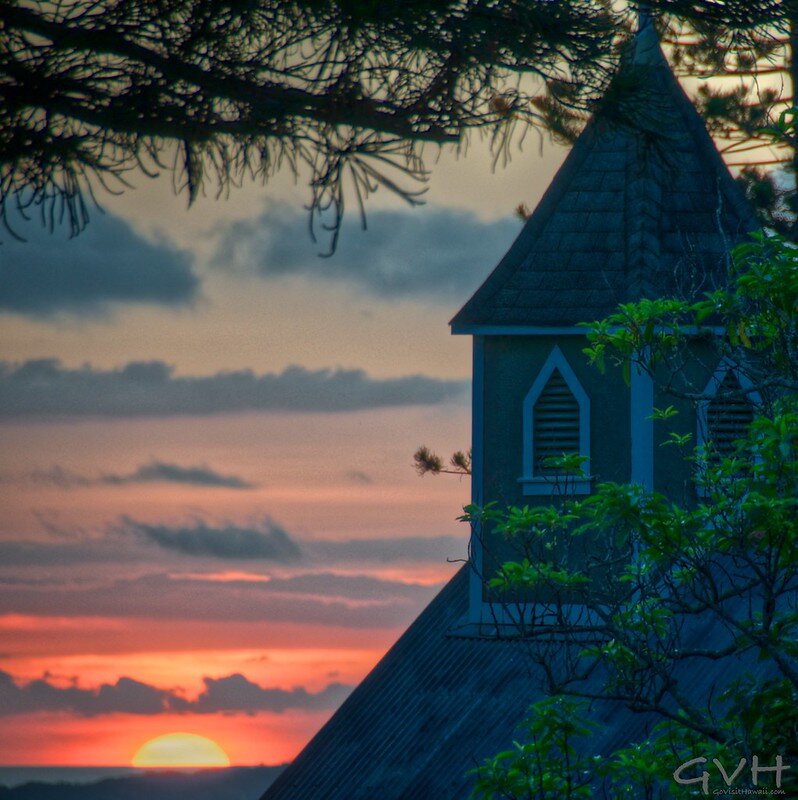 Maui
Like the other islands, Maui has many beautiful, historic churches. We're going to feature Wananalua Congregational Church in Hana. It was built in 1842. If you've ever walked around Hana town, it most certainly will catch your eye.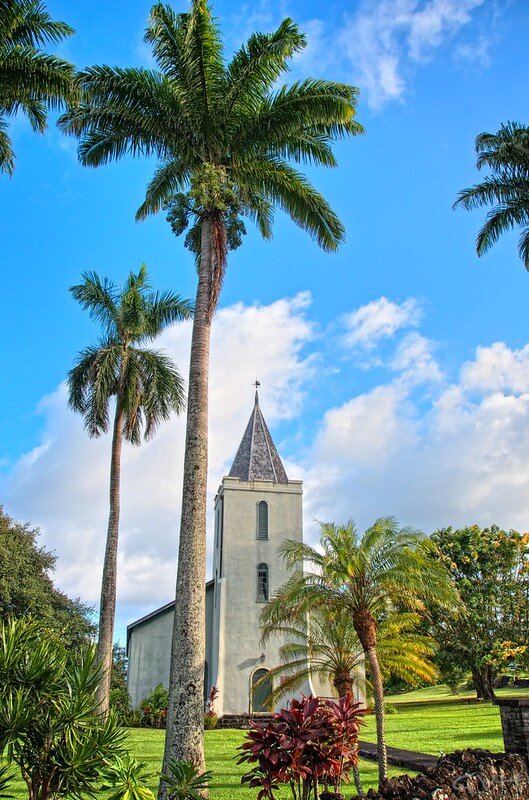 While we're making this brief, virtual stop in Hana, another religious site comes to mind — beautiful Fagan's Cross.
Hawaii (Big) Island
At the risk of sounding like a broken record, Hawaii Island has several, beautiful, historic churches to see. We should probably feature the oldest in the Hawaiian Islands — Moku'aikaua Church in Kailua-Kona. The congregation was established in 1820. The building was erected in 1836 and completed in 1837.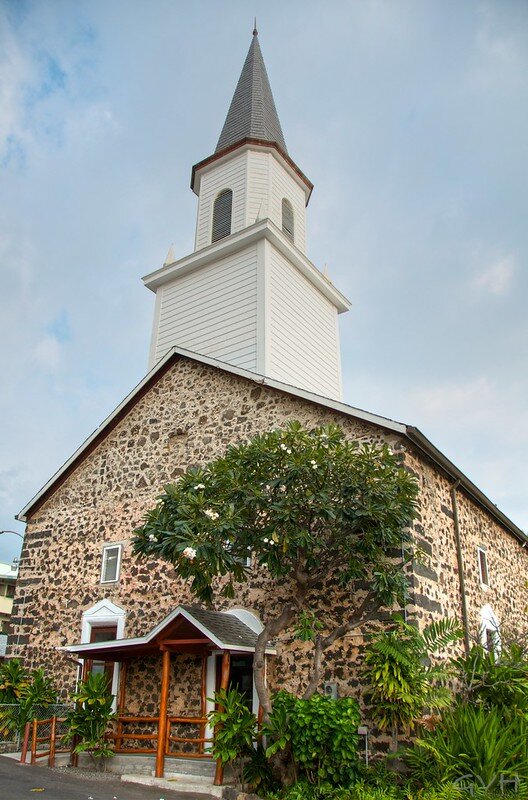 When you look the "skyline" of Kailua-Kona town, the steeple of Moku'aikaua Church stands prominently.

—
For more of our photos of churches in Hawaii, see this link.
Which Hawaii churches have captured your attention in your travels to Hawaii?
The post Scenic photo tour of Hawaii's historic churches appeared first on Go Visit Hawaii.