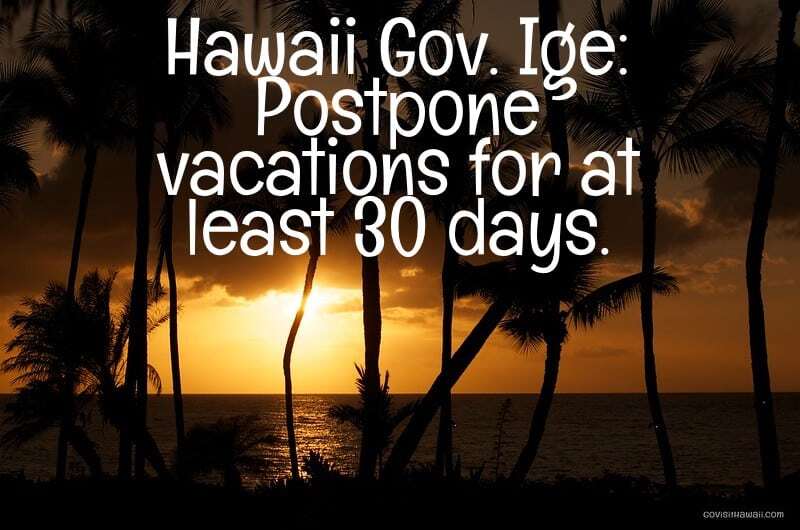 Governor Ige of Hawaii held a press conference on March 17, 2020 with more extreme directives to prevent the spread of the Coronavirus COVID-19. We'll highlight his major points as they relate to tourists with a question and answer format.
Should I go to Hawaii now during the Coronavirus crisis?
"Gov. Ige strongly encouraged our visitors to postpone their vacations for at least the next 30-days and reschedule for a later date."
Are restaurants open in Hawaii?
Gov. Ige directed the following, "Close restaurants or provide drive-thru, take out, pick-up, or delivery."
Are bars and clubs open in Hawaii?
Gov. Ige directed to "Close bars and clubs."
Are state parks open in Hawaii?
Gov. Ige said the state is taking the following actions, "The Dept. of Land and Natural Resources is closing parks"
These park closures include extremely popular places like Diamond Head on Oahu, Waimea Canyon on Kauai, Wai'anapanapa Black Sand Beach Park on Maui and Akaka Falls on Hawaii (Big) Island.
We've listed many Hawaii attractions that are closed due to the Coronavirus.
Are entertainment centers and visitor attractions open?
Gov. Ige has directed, "Close theatres, entertainment centers and visitor attractions."
What else did Governor Ige say regarding the Coronavirus in Hawaii?
Gov. Ige says, "We expect more stringent actions in the days to come."
You can read Governor Ige's full press release here.
The post Should you travel to Hawaii amid Coronavirus COVID-19 crisis? Hawaii Governor says, "postpone" appeared first on Go Visit Hawaii.