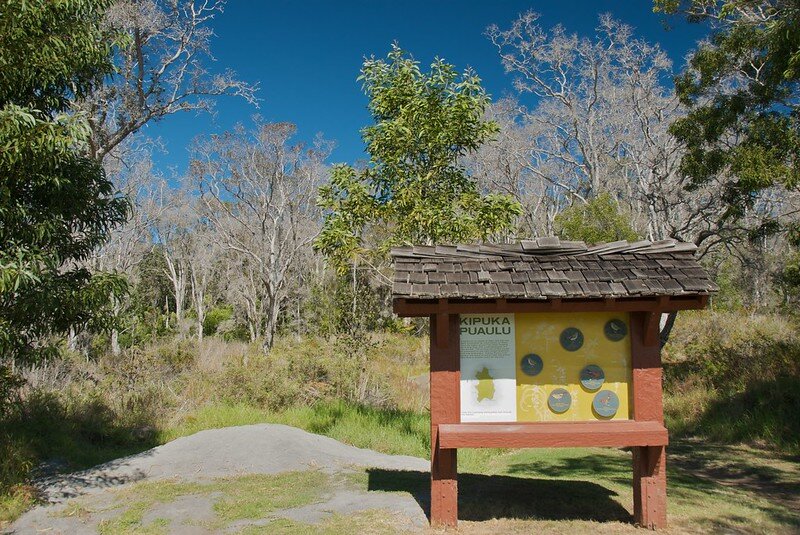 There's a fascinating little trail at Hawaii Volcanoes National Park that many folks seem to miss. The name of this trail is Kipukapuaulu. We've also seen this name as two words Kipuka Puaulu, but the one-word version seems to be more commonly used. The word kipuka means an island of ancient vegetation surrounded by newer lava flows. Take a look at the following satellite image of Kipukapuaulu and you'll get an illustration of a kipuka.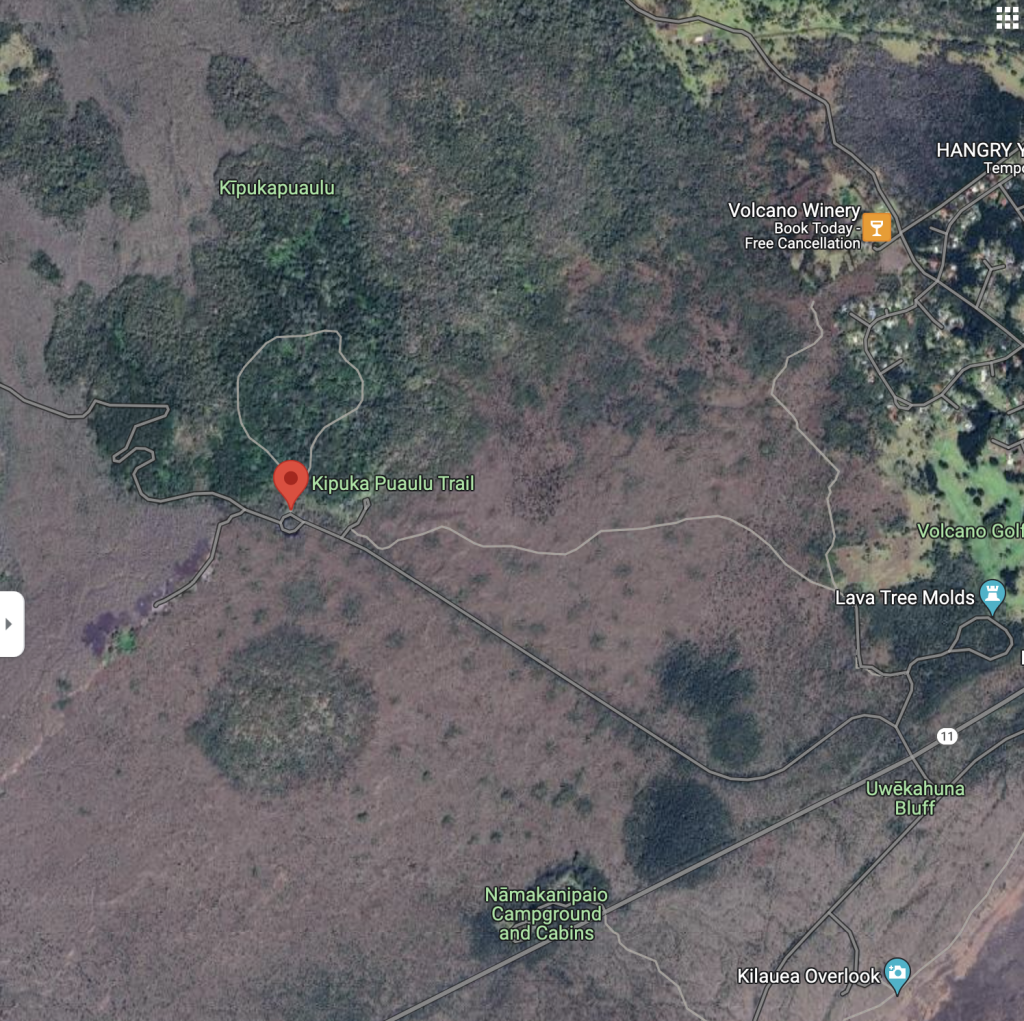 Kipukapuaulu is located off Mauna Loa Road, which is a turn just off of Highway 11 on the mauka (mountain) side of the highway. Though this trail is part of Hawaii Volcanoes National Park, it's not within the park's gated region. Use this Google Map's link to learn more about where this trail is located and get driving directions.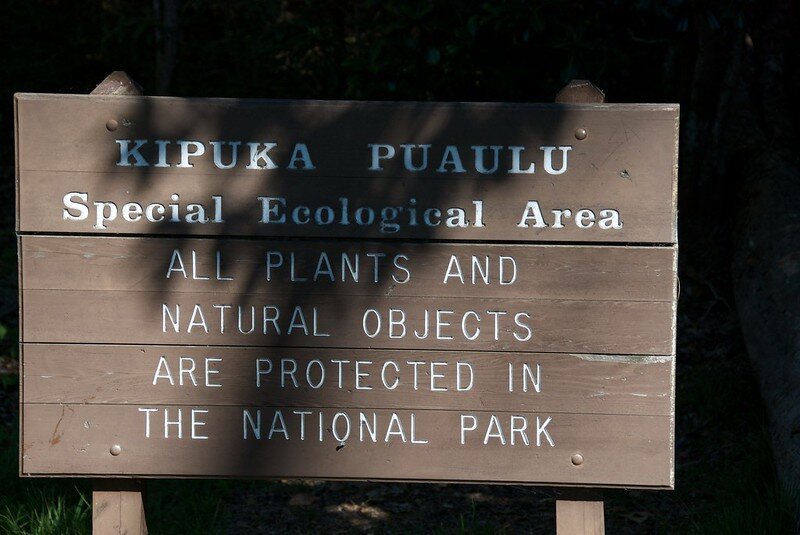 According to the Kipukapuaulu Trail Guide, it is a "hot spot of biological diversity, with more native tree species per acre than any other forest in Hawaii Volcanoes National Park."
When we walked the Kipukapuaulu Trail, we enjoyed hearing the chirping birds. We saw several pheasants.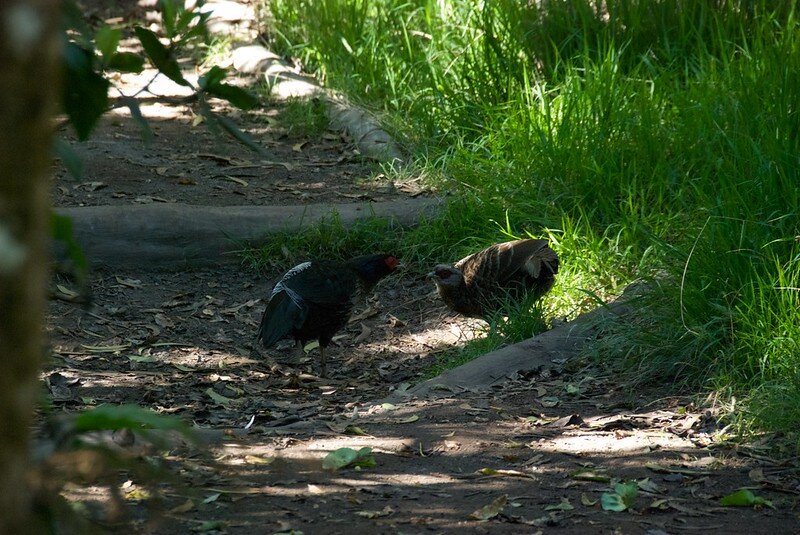 The Kipukapuaulu Trail is only a 1.2-mile, loop hike. It doesn't have much in the way of elevation, so it's considered to be an easy hike.
Bonus Stop – Lava Tree Molds
When you check out Kipukapuuaulu, be sure and also stop nearby to see Lava Tree Molds. This part of the park is on a spur just off Mauna Loa Road. (See this Google Map's link with Lava Tree Molds identified with a red marker.)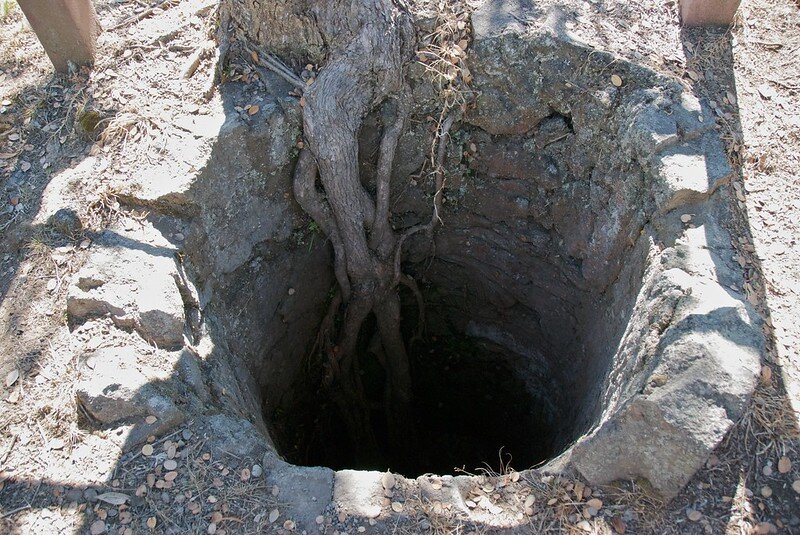 Per this Hawaii Volcanoes National Park page explaining lava trees and lava tree molds,
"Lava tree molds are in some ways the opposite of lava trees. Tree molds are cavities or holes where trees stood in a lava flow. As with lava trees, the plant will burn up when the flow approaches. However, tree molds occur when the flow does not subside or deflate. By not subsiding, the flow does not expose the column of lava that makes up a lava tree."
Have you been to these fascinating spots when you've visited Hawaii (Big) Island?
The post Take me there Tuesday: Kipukapuaulu Trail at Hawaii Volcanoes National Park appeared first on Go Visit Hawaii.