Hawaii is blessed with many miles of beautiful coastline, but Richardson Ocean Park is truly a stunning beach area. With a black sand beach, tall palm trees and ponds that reflect the beauty, it's so very picturesque!
In addition to the scenery, this park is good for observing honu (sea turtles.) The honu feed here and then come to the shore to rest. We enjoy standing along the walled area and watching the honu coming up to breath.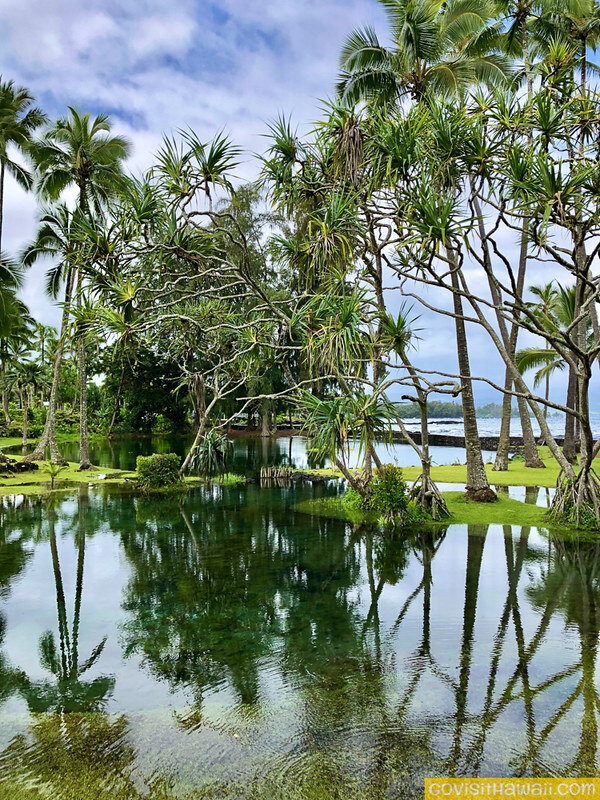 Personally, we simply enjoy taking in the scenery here, but it's worth noting that Richardson Ocean Park is one of the very few beaches on the Hilo side of the Big Island where you can swim and snorkel. Of course, you should always check ocean safety conditions before getting in the water.
The black sand beach is rather small, but there is a lifeguard station here. By the way, there are also restrooms and showers.
Richardson's  located in Hilo in the region of 2355 Kalanianaole Street, just south of the the heart of Hilo town. (See this Google Map for directions.) It's also worth noting that Carlsmith Beach Park is another beautiful beach located very nearby at roughly 1815 Kalaianaole Street.
Have you been to the beaches in the Hilo area? Which is your favorite?
The post Take me there Tuesday: Richardson Ocean Park on Hawaii (Big) Island appeared first on Go Visit Hawaii.