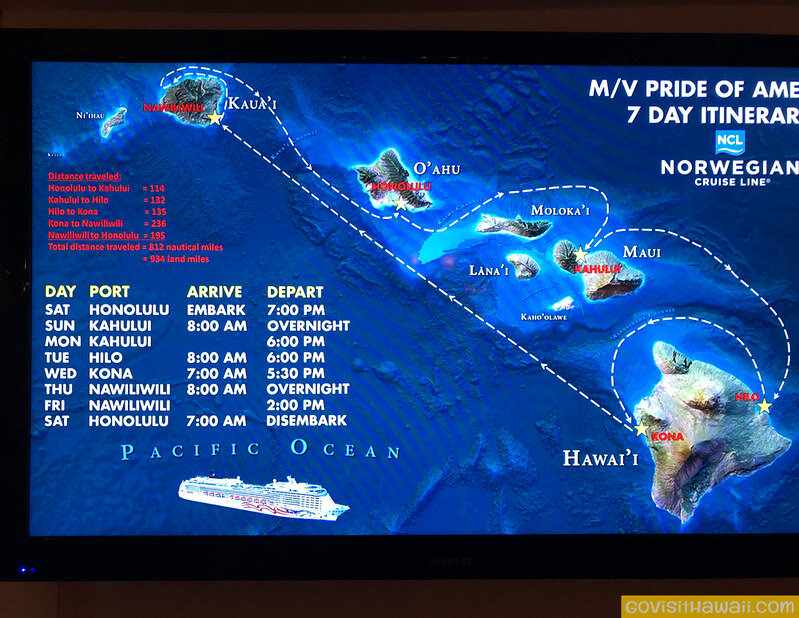 Cruises are a great way to see many Hawaiian islands in a short period of time. With so many options and such little time in each port, it's a daunting process to choose what you will see and do.
When each Hawaiian island offers so much to see and do for a week-long land vacation, how do you best spend your limited hours at each port? The options can be overwhelming! We've gone on many land vacations in Hawaii and we've taken the NCL Pride of America cruise of Hawaii, so we know Hawaii very, very well. As such, we'd like to share some thoughts and suggestions on the top tours to do in each port.
With our suggestions, we've aimed our focus on the places considered to be must-see. Along with outstanding scenery, we've also included some recommendations for learning about the culture.
As the Pride of America cruise of Hawaii is quite popular, we'll roughly follow their itinerary as we look at each port. Note that this cruise is the only one that continuously cruises within the Hawaiian islands. Every Saturday afternoon, it sets sail from Honolulu. Within a week, the Pride of America goes to Maui, Hawaii (Big) Island, Kauai, and then returns to Honolulu for disembarkation on Saturday morning. See the following image for that itinerary.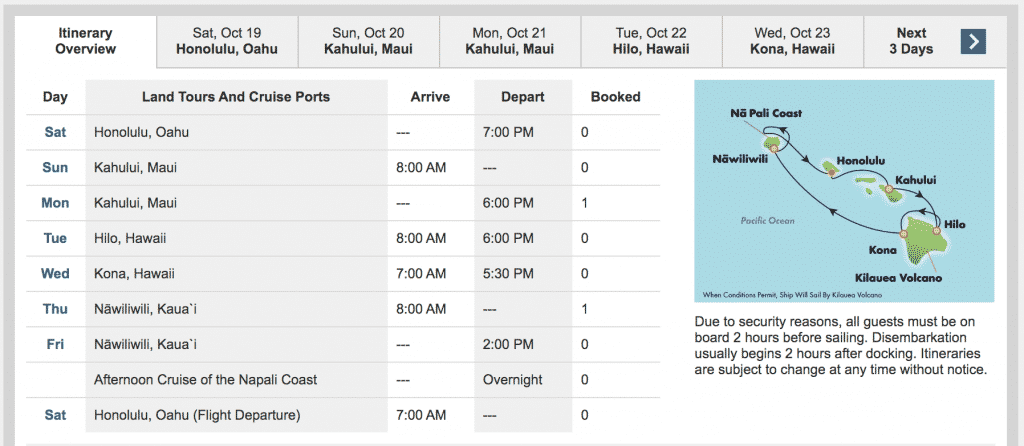 If you are not taking the Pride of America's cruise of Hawaii and are visiting from another ship, please verify that our suggested tours and activities align with the time constraints of your cruise ship's itinerary.
One more point regarding time and tours, don't try to be overly ambitious with the tours you choose that are outside of what the cruise ship offers. If your tour runs late, you might risk missing the ship, and getting back to the ship will be at your own expense. A good way to eliminate this risk is to build in a time buffer and/or book your excursions through the cruise company.
Best tours and excursions to take from Kahului, Maui
Maui Day One Suggestions
The road to Hana is one of Maui's top attractions. This rainforest drive offers lush, tropical scenery, a black beach, waterfalls and beautiful coastal views. (One caution – if you are prone to carsickness, prepare with your preventative measures or skip this tour.)  Though we've taken the road to Hana many times before, when we cruised Hawaii on the Pride of America, we chose a guided tour.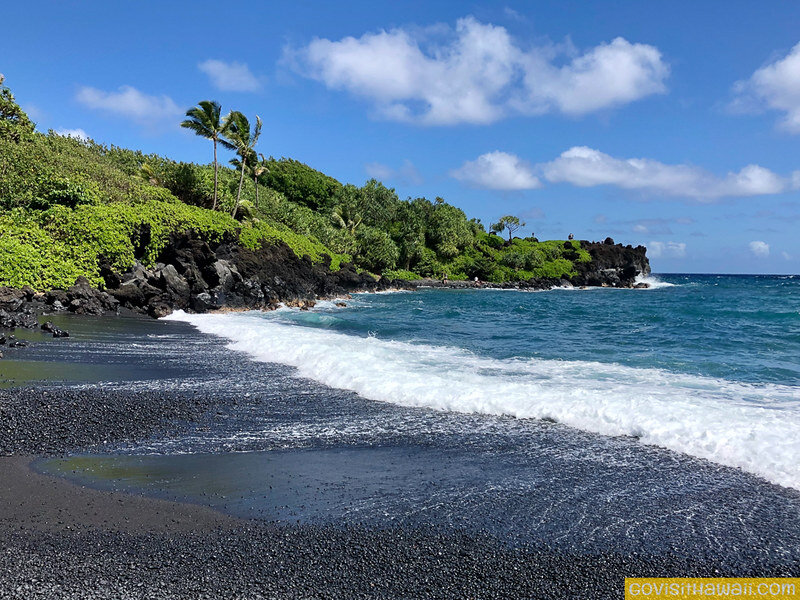 Most excursions offered through the cruise ships only go to Hana and turn around, but there's much to see beyond Hana. We opted for a tour with Valley Isle Excursions, which took us well beyond Hana in a long loop back to Kahului.
The reason we chose the road to Hana for day one of our two-day stop at Maui is that this tour takes all day. If, for some reason, your tour gets delayed, you won't miss the boat if you have an overnight stay in port. Note that if your cruise only has one day for Maui, you might have to opt for the tours that go to Hana and back due to time constraints.
If you prefer to DIY, it is possible to rent a car and drive the road to Hana. You'll want to do a lot of research first to make sure you use your time wisely. See our advice for the road to Hana. Note that we have a mini-guide to the road to Hana that allows you to see some awesome sights but doesn't go to Hana and doesn't take the entire day.
Alternatives for Day One on Maui
If the road to Hana doesn't appeal to you, consider other tour options provided by the ship or rent a car and sightsee on your own. Look for an organized or DIY tour that might include the following options:
Historic Lahaina is a neat town to walk around, check out the shops, see their large banyan tree, and have lunch.
If it's humpback whale season in Hawaii, which runs roughly from December-ish to April-ish, consider going on a whale-watching tour. Maui is one of the best islands for humpback whale watching.
The Iao Valley is a fascinating place to see, so if you can, squeeze that in on either day one or two. It only takes about an average of 30 minutes to see this valley, so it can be combined with other sightseeing.
Maui and Hawaii (Big) Island are our favorite islands for snorkeling. The crescent-shaped crater of Molokini is a top spot for snorkeling in Hawaii. Look for a tour that includes "turtle town" which may give you an opportunity to see honu (Hawaiian sea turtles.)

We really like the 

luau options on Maui

, so if your ship has an overnight stay on Maui, the evening of day one would be a very good evening to enjoy a luau. 
Maui Day Two Suggestions
Seeing sunrise from 10,000 feet above sea level on a dormant volcano is quite a unique experience. Haleakala sunrise is one of the top activities for Maui. If your ship stays overnight on Maui, day two would be your only option for seeing sunrise from Haleakala.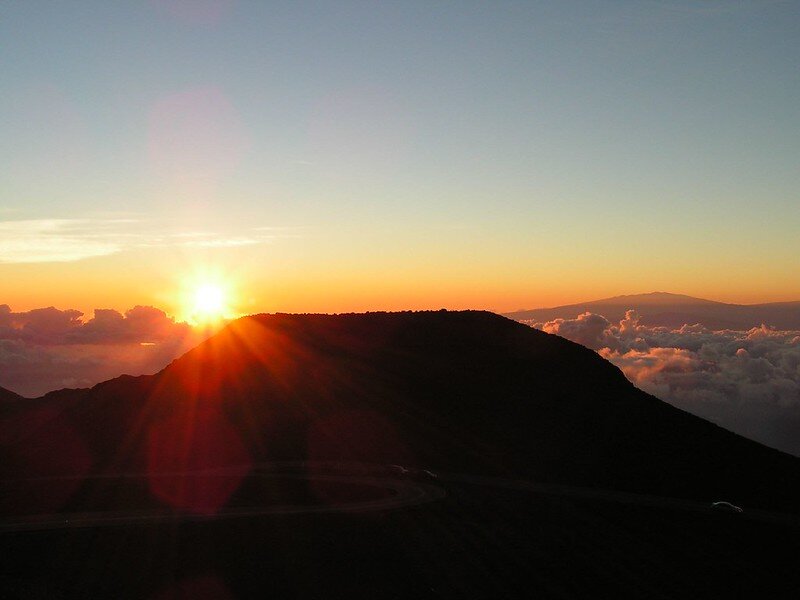 If you toured the road to Hana on day one, check out the other suggestions we listed above under "Alternatives for Day One on Maui"
Best tours and excursions to take from Hawaii (Big) Island – Hilo Side 
One of the most fascinating attractions in all of Hawaii is Hawaii Volcanoes National Park. It's a park that is worthy of exploring for more than just a day, but as you'll likely only have a day here, you'll get to see some of the park's highlights. Don't miss it, especially if you have the opportunity to see volcanic activity.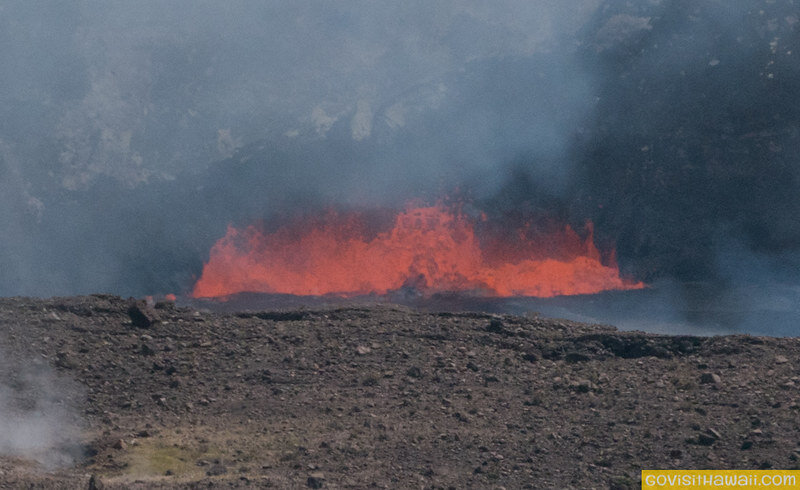 Hawaii Volcanoes National Park is about a 50-minute drive from Hilo. So, you'll need a tour or rent a car. The ship will offer tours, but if you want to consider an independent operation, we had a great tour with Keikana Tours' Hoppa On Hoppa Off.
Best tours and excursions to take from Hawaii (Big) Island – Kona Side 
From the Kona side, our number one pick would be seeing Pu'uhonua o Honaunau National Historical Park. It's often referred to as the Place of Refuge. This park offers an opportunity to learn about ancient Hawaiian culture with a stunning oceanside backdrop. At the moment, we're not seeing a tour to this park being offered by NCL, so you'd have to rent a car or get a private tour guide to get here. It's about a 40-minute drive from where the tenders drop off passengers. If you opt to see this place of refuge, you will also be able to make time to tour a coffee farm for which Kona is famous. We've enjoyed visits to Greenwell Farms. If you still have time available, visit Kaloko Honokohau National Historical Park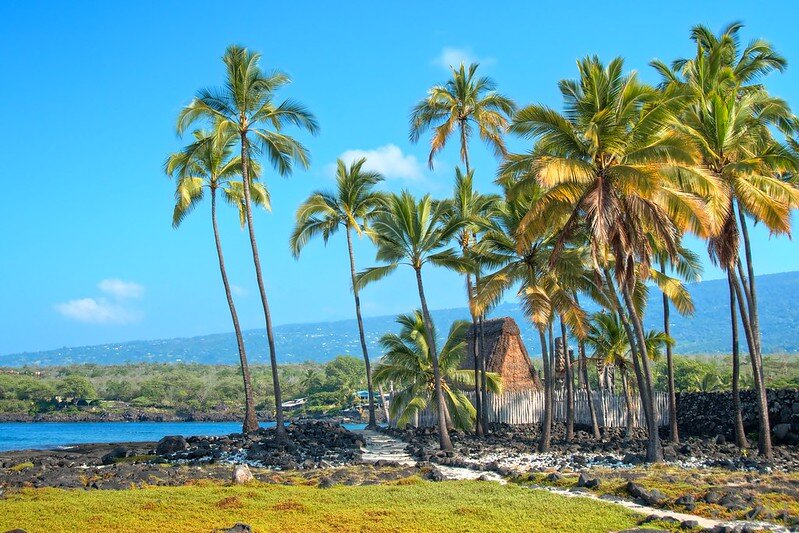 Alternative ideas for Hawaii (Big) Island, Kona:
If you did not snorkel on Maui or would like to do so again, Kealakekua Bay is a great place to snorkel. You'll need a tour to get there.
The Kohala waterfalls tour is an excellent waterfall tour. Plus, the drive to and from north Kohala offers you the chance to see more of the island.  I'm not certain, but I believe the Kohala waterfall tour offered by the cruise companies is this same one.
Walk around Kona to check out the historic sites, shops and restaurants.
Best tours and excursions from Nawiliwili/Lihue, Kauai
Kauai Day One Suggestions
Choosing what to do on Kauai seems to be a bigger challenge than the other islands. There's so much to see and do! Here are our thoughts for day one:
– Our number one suggestion would be to rent a car. This would give you the freedom to explore at your own pace. Years ago, we wrote this article — I only have one day on Kauai. What should I see? It's still good advice as you'd get to see the Kalalau Valley Lookout, Waimea Canyon, Spouting Horn and two of Kauai's most iconic waterfalls — Opaeka'a and Wailua Falls . Those are all must-see places in Kauai, in our opinion. If you are on the NCL Pride of America cruise, you should have plenty of time to see all of this on the first day of your stop at Kauai, which includes an overnight stay.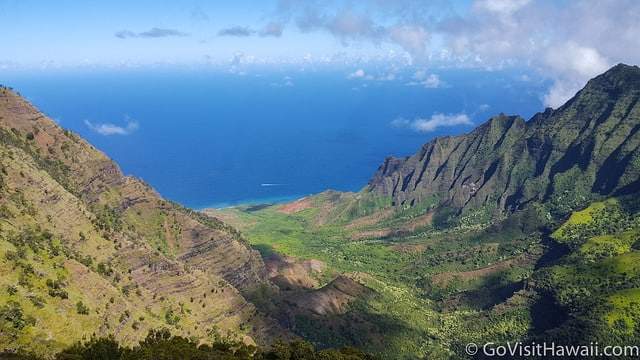 If you don't want to rent a car, look for a guided tour that includes some of the sites just mentioned.
Alternative ideas for Kauai day one:
– Kauai is a spectacular island for a helicopter tour. See this link to review Kauai helicopter tour companies and read reviews.
– A Kauai movie sites tour takes you to some beautiful spots where movies have been filmed in Kauai.
– For some fun, we love the Mountain Tubing Adventure. See our review. (If you do this on day two, get the first morning tour in order to allow enough time to get back to the ship before departure.)
– Another one of our favorite tours is the Kauai Secret/Sacred Falls Kayak and Waterfall Hike.
Other notes about Day One on Kauai
If you are on the Pride of America, this is the port where the ship has arranged the option to go on a luau. They advertise it a lot. We have not been on to this luau, so we cannot speak from experience, but the feedback we heard from a handful of other passengers is that they were slightly disappointed. Our favorite luaus are on Maui and Oahu. See Maui luau options and Oahu luau options.
Kauai Day Two Suggestions
If you are on the Pride of America, this is a short day as you are only in port until 2pm. So taking tours could be tricky on this day. Here are some thoughts:
– Kalapaki Beach is a nice beach and just a short (approximately 0.5 miles) walk or shuttle ride from the cruise terminal.
– Consider a helicopter tour, as we mentioned above. Kauai is our favorite island for a helicopter tour. Most tours only take an hour and the airport is only about five minutes away from the cruise terminal.
– As we mentioned above, for some fun, we love the Mountain Tubing Adventure. See our review. You would need to get their first tour at 9am to make this feasible for day two of your stop in Kauai. Double-check the timing as that can be subject to change.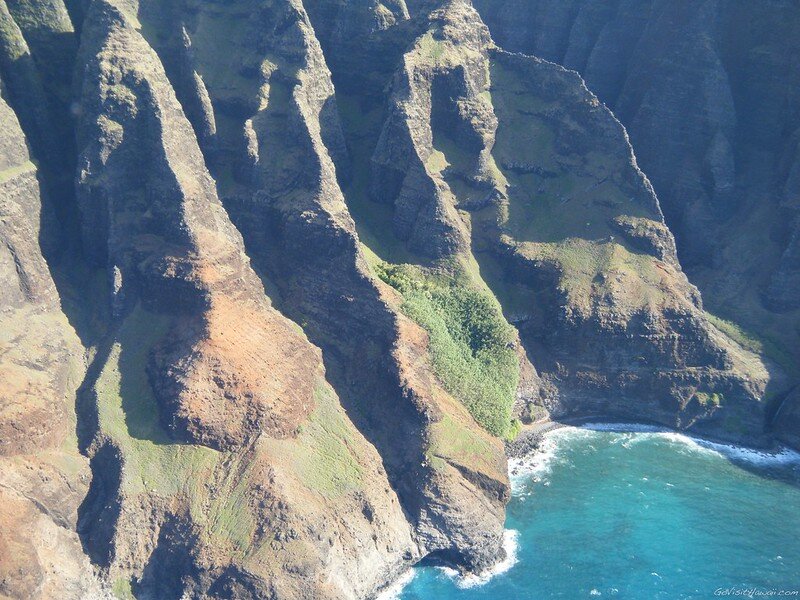 If you are on the Pride of America, the ship will make its way around Kauai to cruise by Kauai's stunning Na Pali Coast. You will have some time, probably a couple of hours, from when you leave the dock to when you can see the Na Pali Coast. Check with guest relations for their estimated timing for that day. You will definitely want to take in those views.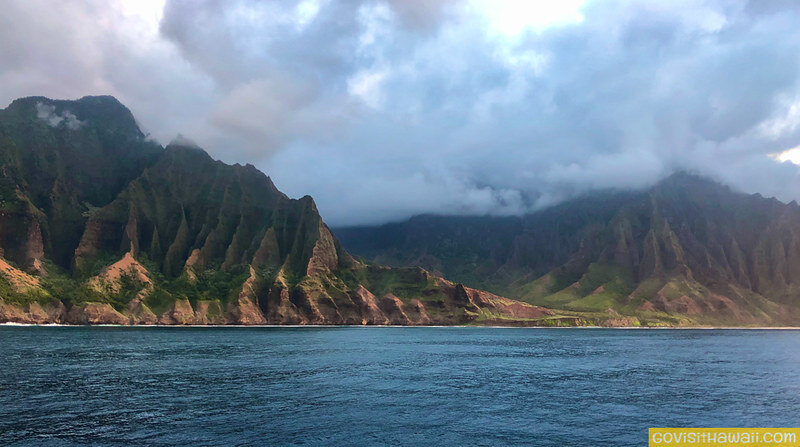 Best tours and excursions from Honolulu, Oahu 
We hope you've allowed at least an extra day or two to explore Oahu either on the front end or the back end of the cruise. Here is our Oahu vacation itinerary that you can adjust to your available days.

The cruise companies have excursions to see Pearl Harbor and some Honolulu sites with an airport drop-off. That is worth doing if you can fit it in and if you didn't allow extra days on Oahu.
What to bring with you on your Hawaii tours and excursions
Here's a list of general items you'll need or want for your excursions.
Your identification and key card
Fully charged smart phone and/or camera
A light jacket, preferably waterproof, in case of a rain shower. Additionally, some of the places like Waimea Canyon, Haleakala summit and Hawaii Volcanoes National Park are in elevated, cooler climates.
Water to stay hydrated
Sunscreen
Sunglasses
A hat or visor
Comfortable walking shoes that you don't mind getting dirty as you might be walking on some dusty or muddy trails.
Some tours may necessitate beach towels.
The post The best Hawaiian island excursions on NCL Pride of America and other Hawaii cruises appeared first on Go Visit Hawaii.