With the October 15th launch of the new pre-travel testing program just hours away from implementation, it seems that there's new news coming out of Hawaii every hour. If your head is spinning, trying to keep up with the last minute changes and restrictions, welcome to the club! Our head is spinning, too! Just trying to make heads or tails out of the numerous proclamations, emergency rules, press releases and press conferences is absolutely exhausting. I feel like the guy in the red shirt in this Far Side cartoon.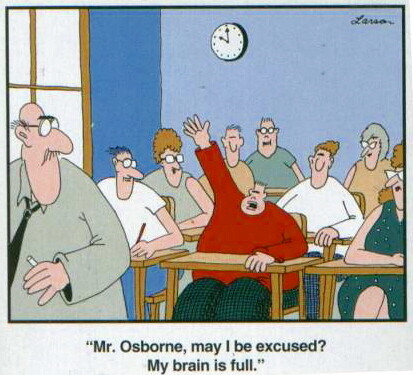 So, let's try to break down the news into some bite size pieces that are as easy as we can possibly make them to understand and digest.
Overview of Governor Ige's October 13, 2020 Press Conference
Once again, the governor and lieutenant governor and other state leaders expressed confidence in the October 15th start of the pre-travel testing program. The governor stated, "We're looking forward to launching pre-travel testing on Thursday, because it's a reflection of the progress we've made in managing the pandemic to the point where we can begin taking greater steps to reviving our economy and strengthening our community."
You can watch the entire press conference here. The governor and lieutenant governor provided a brief overview the basics of the pre-travel testing program. We're summarizing their overview plus adding a few pieces of information that we believe is helpful to include:
Beginning October 15, travelers who do not want to be subject to the state's 14-day mandatory travelers quarantine must take an approved COVID-19 test within 72 hours prior to departure from the final leg of travel. (Children under the age of five will not be required to take a test.) This pre-travel testing option is only open to travelers from the U.S. at the start.
The test must be done through one of the 17 trusted testing partners (listed here).
Negative test results may be uploaded on the Safe Travels Digital Platform, and all travelers must also complete the state's mandatory travel and health form on this digital platform. (Travelers are encouraged to do this step 24 hours prior to arrival in Hawaii. Airport screeners will review information upon arrival and conduct temperature screenings.)
If a traveler's COVID-19 test comes back negative, they will be exempt from quarantine. If the results haven't come in yet, the traveler will be required to quarantine at their place of lodging until results come back. If the result comes back positive for COVID-19, the traveler and close contacts will be mandated to isolation for 14 days.
If a traveler does not pre-test, they will be required to quarantine for 14-days. There are no options to test out of state quarantine after arrival.
For more information of the pre-travel testing program and requirements, see HawaiiCOVID19.com/travel.
For more information on the Safe Travels Digital Platform, see this link.
The governor announced four newly approved testing partners, which include American Airlines, Alaska Airlines, Port of Oakland and Bartell Drugs. There are now 17  testing partners in total. Once again, you can see the complete list of approved testing partners listed here.
At the time of publishing, all islands are participating in Hawaii's pre-travel testing program for visitors to the state. In the last week or so, there had previously been various discussions, rumors and last-minute hesitations for the implementation of the pre-travel testing program. All islands are opting in. There are some case level caveats that we'll mentioned in the tier section below.
Post-arrival, second testing requirements vary by county
A second test may be either voluntary or required per individual county requirements. Here's the list of second test requirements by island:
Kauai – requesting travelers take a second test 72 hours after arrival. It is voluntary and will be paid by the county. A quarantine is not required between arrival and the second test. Read this update for currently available information regarding the second test. We would expect the county will update their webpage with further details.
Maui County – requesting travelers to take a second test between 48 and 72 hours after arrival. It is voluntary and will be paid by the county. A quarantine is not required between arrival and the second test. Note that the county of Maui includes the islands of Lanai, Molokai and, of course, Maui.
Hawaii (Big Island) County – a second test will be performed upon arrival. The cost of the test will be paid by the county. For more insights on this testing, see this article.
Additionally, a statewide surveillance testing program will be implemented. Approximately 10% of incoming travelers will be tested four days after arrival. The cost of surveillance testing will be paid by the state. This surveillance testing will take place for 60 days.
Option to pre-test to be exempt from 14-day quarantine for inter-island travel to Kauai and Maui
The governor approved Kauai's and Maui's requests to allow quarantine exemptions for inter-island travel if inter-island travelers obtain a valid 72-hour pre-test with a negative result. For more details on that news, see this link to Maui News and this link to this County of Kauai Facebook update. Without a valid, negative pre-test, inter-island travelers may be subject to a mandatory 14-day quarantine.
At the time of publishing, a quarantine is not required for inter-island travel to Oahu from any other Hawaiian Island.
At the time of publishing, a 14-quarantine is required for all inter-island travel to the island of Hawaii, also known as the Big Island. See this link for more information.
Note that if you are flying from a U.S. state to Hawaii with a valid, negative pre-test and  you are simply making a flight connection without exiting the connecting airport, that does not trigger an inter-island quarantine. Per HawaiiCOVID19.com/travel, they put it this way, "If you have just a layover in Honolulu then the negative test result is good through to your final destination. If your break in Honolulu is more than a layover, then you are captured by the interisland quarantine."
Some islands may opt out of the state's pre-travel testing program if case counts increase
Kauai has received approval from the governor to implement a tier system that allows or disallows quarantine exemption with a pre-travel testing program based on their positive COVID-19 case counts. You can read that new rule here. To monitor Kauai's case counts, check their COVID-19 webpage.
Maui has proposed a similar tier system. An overview of this system was presented in the county's daily update on Monday.  It's not clear whether the governor has approved Maui's proposed system or not. Check the webpage for Maui county for any updates.
Those are all the known, opt-out, tier systems at this time.
Rules vary by island/county
The counties of Hawaii are changing rules and regulations frequently in response to COVID-19. Keeping up with the changes can be difficult and confusing. (See this Star-Advertiser article, Island-by island COVID-19 requirements and rules could confuse some visitors.) The onus is put on the travelers to find, understand and follow the rules. It's not easy to find either as most of their rules are tucked away in multiple proclamation and emergency rule documents. Here are the county websites to check for their rules:
Hawaii County (Big Island)  hawaiicounty.gov
Maui County is composed of the islands of Maui, Lanai and Molokai. The website for Maui County is mauicounty.gov.
City and County of Honolulu is composed of the entire island of Oahu. The website for the City and County of Honolulu is honolulu.gov.
Kauai County – kauai.gov
Helpful Hawaii Travel Information Resources
These are all official resources to assist you:
Safe Travels Digital Form and Help Page
GoHawaii.com/travel-requirements
1-800-GOHAWAII
The post The latest Hawaii COVID-19 travel news and restrictions – October 14, 2020 appeared first on Go Visit Hawaii.