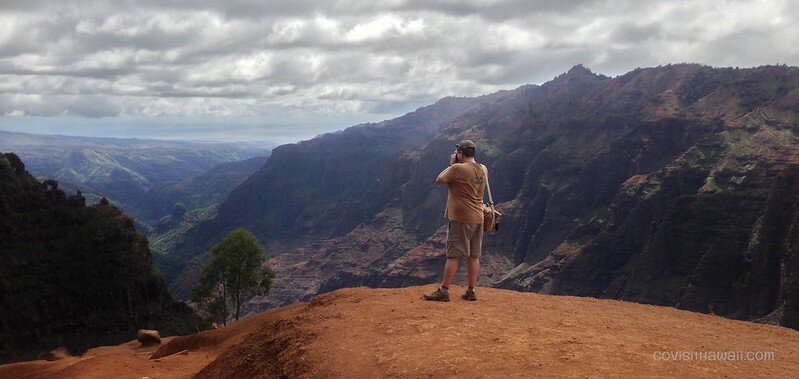 We like to travel light when we go to Hawaii. After a temporary luggage loss for our first trip to Kauai in 2003, we decided to travel with only carry-on luggage and haven't regretted that decision. We both travel with a backpack and a roll-aboard suitcase.
Okay, so what does luggage have to do with shoes? As shoes take up a lot of space in luggage, we have to make sure we make wise choices for what shoes to bring on a Hawaii vacation. The shoes we bring need to be multi-functional and comfortable. Let's take a look at the types of shoes we recommend.
1. Comfortable walking/hiking shoe that can get wet and muddy
Look for a shoe that has good tread/tractions for walking on dirt paths. Even if you don't plan to hit a hiking trail, some of the scenic parks may require you to walk on uneven, dirt or rocky paths to get to lookout points. Shoes with a good tread will help keep you from slipping.
Choose a shoe that you won't mind getting muddy. If there's been recent rain, chances are your shoes will get dirty in the mud. Though it's tempting to want to wear your brand new sneakers on your long-anticipated vacation, you better not wear them unless you don't mind them getting dirty. If you don't want to buy a specialty shoe for your trip, then bring old pair of sneakers with a good tread.
Why do we recommend you choose a walking/hiking show that can get wet? First, you might get caught out in a rain shower as you explore the beautiful Hawaiian Islands. Second, a surprising number of Hawaii hikes cross through streams. So, either you go barefoot in the stream, which we don't recommend, or you walk through the stream with shoes that can get wet. Wearing a quick-drying shoe is far more comfortable that traipsing around in a soggy sneaker. Trust me, I know that from experience.
Look for a shoe with a closed toe as some tours require closed-toe shoes. All horseback riding tours and ATV tours that we have taken require closed-toe shoes. Zipline tours and kayak tours will either require or strongly recommend close-toe shoes. Additionally a closed-toe shoe offers better protection if you stub your foot on a rock or root on a trail.
Let's look at some good shoe options that fit the above requirements.
I've had these Ryka hiking sandals for more than 10 years and they have logged many miles in Hawaii and beyond.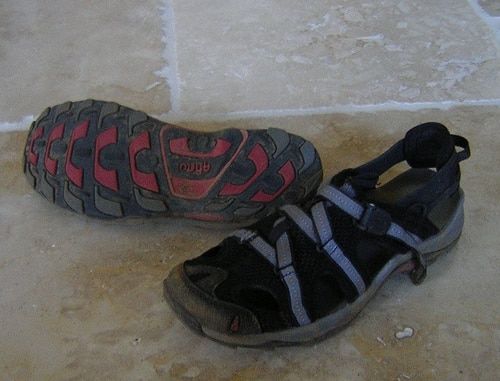 REI, Zappos and Amazon are all great places to shop for the style of shoe I've just described. Note that Amazon owns Zappos.)  To better visualize the style of shoe, I did some quick searches on Zappos for men's and women's style shoes.
For women – For a hiking sandal, this Keen Drift Creek H2 shoe looks functional. For a shoe that looks more like a sneaker, this Ryka Hydro Sport shoe looks like a really good option. This Ryka Hydro Splash shoe looks great, too. Also, this Ryka Sky Walk Trek shoe looks a bit like a cross between a hiking sandal and a sneaker. These are not the only options, but they will give you a good idea of the types of shoes that are available.
For men – these shoes look like great options — Merrell Speed Strike LTR Sieve shoe,  this Keen Arroyo II has good reviews and this Keen Rapids H2 hiking sandal would work nicely, too.
For kids – Note that Zappos, REI and Amazon also have this style of quick-drying, trekking shoe for kids, too.
As you can see, we've devoted a lot of time describing this shoe and providing examples so far in this article. We've spent this time because this type of shoe is very useful and versatile for Hawaii vacations and beyond.
As a side note and tying back into our objective of traveling with minimal luggage, this trekking shoe tends to be the bulkiest shoe, so it's the shoe that we wear for our flight. It's comfortable for all the walking we have to do on the day of travel. As planes can often get chilly, we wear socks with these shoes even if the shoes can be worn without socks. As we prepare to land, we take off the socks. (See our article: Long-haul flight tips to/from Hawaii: What to wear on the plane.)
And, on yet another side note, if our trekking shoes get wet during our days of exploring, we'll put them on our balcony/lanai to dry between wearings.
2. Casual sandal or slip-on shoe for "dressing up" 
Overall, Hawaii is very, very casual. In our article What Not To Pack For Your Hawaii Vacation, we advise to leave your dressy shoes at home. For dining at most restaurants in Hawaii, the following attire is what you'll usually see others wearing:
For men – chino shorts and a Hawaiian shirt or polo shirt. (See Andy's article from 2014 with suggestions of what men might want to wear on a Hawaii vacation.)
For women – sundresses or a nice short and top are good choices. (See my article from 2014 on suggestions for what women might want to wear on a Hawaii vacation.)
In both cases, a comfortable, casual sandal goes well with Hawaii resort wear. Andy also recommends a slip-on shoe similar to this one by Hawaii designer Olukai.
The weather in Hawaii can feel humid to most people, so think about the types of clothes and shoes you like to wear on a humid, summer day. That's what you'll be most comfortable wearing in Hawaii.
To minimize the number of sandals I bring, I choose either a black or a brown/tan sandal, but usually not both. I then coordinate all the clothes I bring to go with either the black or brown/tan sandal.
3. Flip Flops 
The final shoe we recommend is the good ole flip flop. (In Hawaii they call them slippahs.) A flip flop is a good shoe to wear to the pool or beach. They don't take up too much room in your luggage.
—
Note that if you end up bringing new shoes to Hawaii, try to break them in prior to your trip. Bring some band aides, just in case you get a blister.
Those are our suggestions for what shoes have served us well over our many Hawaii vacations. We used to bring a specific water shoe for the ocean, but we rarely used them. If we need them, we can always wear our quick-drying trekking shoe that we described in the first section.
How about you? What shoes do you find you need for your Hawaii vacations?
The post What are the best shoes for a Hawaii vacation? You only need these three types! appeared first on Go Visit Hawaii.