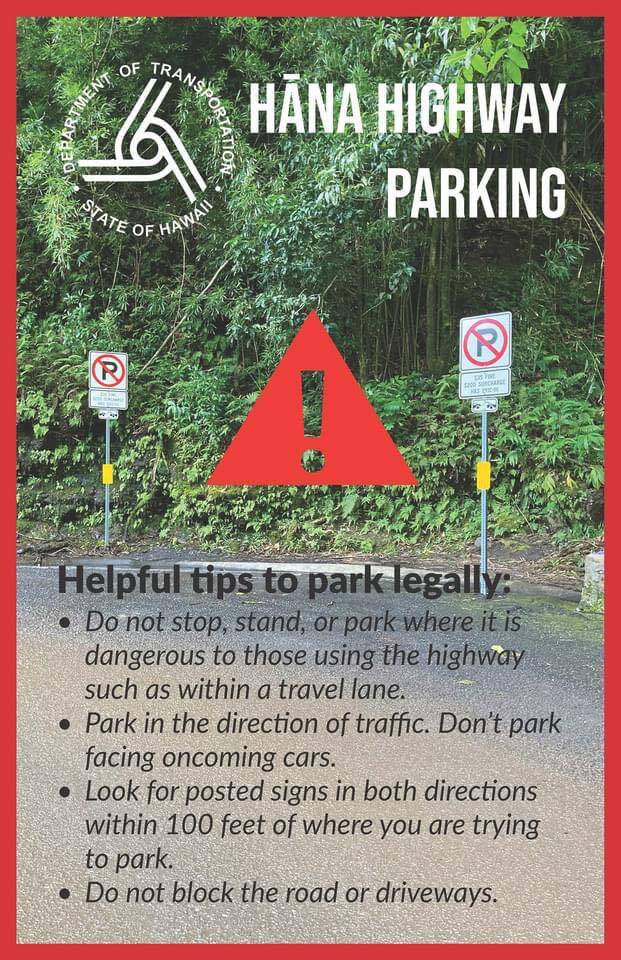 During the height of COVID-19 in 2020, Maui's Hana Highway was open to local traffic only for many months. This policy was in place to allow emergency and healthcare traffic flow.
We're not sure what's happened since the Hana Highway was reopened, but locals are generally not happy with visitors as we've seen and heard quite a few complaints.
The road to Hana is a beautiful drive through a rainforest. While it may be easy to be entranced by its beauty, it's important to remember that the Hana Highway is the only thoroughfare for necessities for those who live off the road.
We know that our readers at Go Visit Hawaii are considerate and polite visitors, so many of the "don'ts" we're going to list may be rhetorical. Even so, it won't hurt for us to review these helpful tips. Plus, taking heed of the following "don'ts" will help you avoid a $35 ticket plus a $200 surcharge per incident.
What shouldn't you do when driving the road to Hana?
Don't park on the highway or impede the flow of traffic.
Don't trespass on private property. Though the road to Hana has some parks along it, most of the land off and along the highway is privately owned. No one wants strangers traipsing through their private property.
Don't park on the opposite side of the road, facing oncoming traffic.
Don't block driveways.
Don't hold up traffic — especially local traffic. Instead, be considerate and safely pull over to allow local drivers to pass you. They're not on the sightseeing mission that you are on. They may be on their way to a doctor's appointment, grocery store, etc.
The Maui Police Department posted the following live video discussing some of the above "don'ts" by a bamboo forest that's actually on private property.

In light of local complaints, the Hawaii Tourism Authority issued this advice page recommending visitors take guided tours to Hana. We are not opposed to taking a guided tour as we have had some good experiences on them. It definitely takes a lot of stress out of this grueling drive. (See our article with more insights on experiencing the road to Hana independently vs. on a guided tour.)
For more advice on the road to Hana, see our article: Everything you need to know about driving the road to Hana.
The post What not do when driving the Road to Hana appeared first on Go Visit Hawaii.