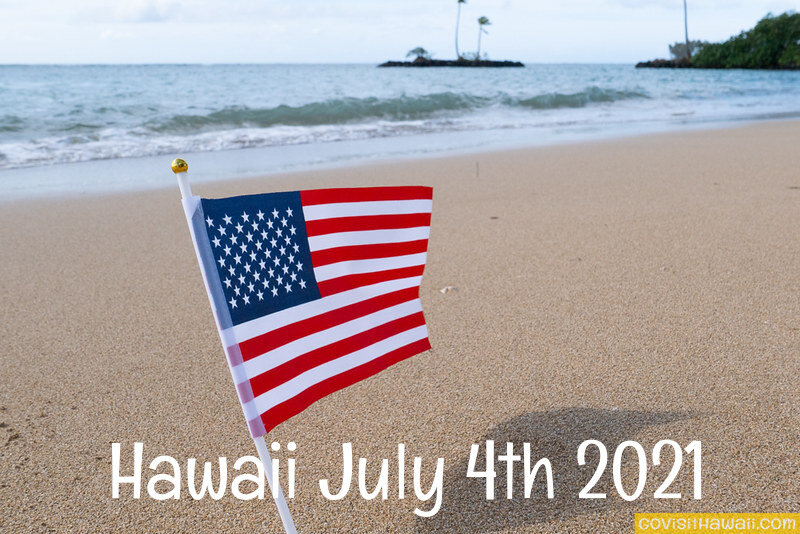 Prior to COVID-19, Hawaii was bustling with exciting Independence Day events. In 2020, all the festivities came to a halt. Now, in 2021, a few celebrations are coming back, but for the most part, many of Hawaii's traditional events are canceled due to COVID restrictions.
Let's look at the summary of what's planned in the Hawaiian Islands this year:
Hawaii (Big) Island
Hawaii Island will be the most festive of all the Hawaiian Islands for 2021 with not just one but two public fireworks shows! In Hilo, a fireworks show is planned for Hilo Bay. On the Kona side of the island, a fireworks show is planned at the Old Kona Airport Beach Park. For more information, see our page for Hawaii, Big Island July 4th.
Oahu  
Typically the biggest fireworks show in all of Hawaii is hosted by Ala Moana Center at Ala Moana Beach Park. Unfortunately that show along with all the other public shows are canceled for 2021.
The good news is that fireworks shows for the military communities are on forJoint Base Pearl Harbor and Hickam, Schofield Barracks and Kaneohe Bay! These events are not open to the public, but the public may watch from afar.
For more information, see our page for Oahu July 4th.
Maui 
Lahaina usually hosts Maui's fireworks show, but unfortunately that's canceled again for 2021 and our Maui July 4th page is updated to reflect that.
Kauai
Unfortunately, the annual Concert in the Sky event, a fundraiser event hosted by Kauai Hospice, is canceled again for 2021. Additionally, the Most West Freedom Fest that's traditionally hosted by Pacific Missile Range Facility at Barking Sands on July 3rd is also canceled for 2021. Hopefully in 2022, there will be Independence Day celebrations to include in our Kauai July 4th page.
—
Though most of the bigger, public events are canceled, if you are staying in a resort, your accommodation may be hosting a special, thought subdued, event. So, check with your resort for what they may be offering specifically for their guests.
The post What's happening for July 4th 2021 in Hawaii? appeared first on Go Visit Hawaii.