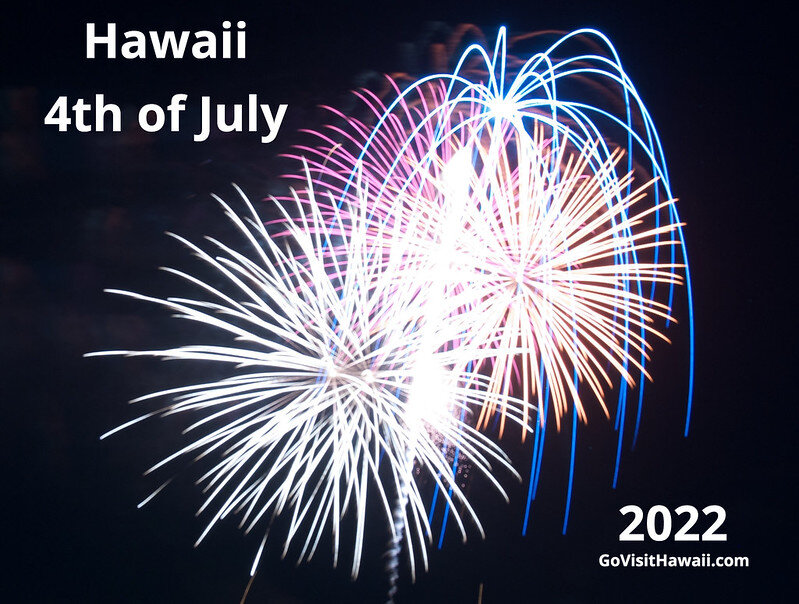 After two, relatively quiet years in Hawaii, most July 4th events are back in action for 2022! Here's where you can find fireworks shows and other Independence Day celebrations in the 50th State.
Where to watch July 4th fireworks on Oahu
Though the holiday name Independence Day implies a single day of celebration, on Oahu this year, the celebrations are scheduled from July 1st through July4th. You could potentially see fireworks four nights in a row!
Here's a chronological list with a summary of where the public is invited to watch fireworks. For more details and additional 4th of July fun things to do, see our page of Oahu July 4th fireworks and celebrations.
Friday, July 1st
Hilton Hawaiian Village's Friday night fireworks show is scheduled for 8:00 p.m. at Waikiki Beach. Though this is not Independence Day specific, it's a great way to kick off the holiday weekend. Additionally, it will be the only spot to watch fireworks from Waikiki Beach over the the holiday.
Saturday, July 2nd
Scofield Barracks hosts their celebration which is open to the public this year. It includes concerts, activities, food and fireworks!
Sunday, July 3rd
Turtle Bay Resort on the North Shore hosts Ohana Day at Turtle Bay with live music and a fireworks show. Tickets are required.
Monday, July 4th
Where to watch July 4th fireworks on Maui
The town of Lahaina is hosting their 4th of July fireworks once again! Live entertainment will be held in Campbell Park prior to the fireworks show that's set to begin at 8:00 p.m. See our Maui July 4th page for more insights.
Where to watch July 4th fireworks on Hawaii (Big) Island
Public fireworks shows are going to be held on both the Kona side and Hilo side of Hawaii Island.
In Kailua-Kona, the annual 4th of July parade is back with the them of "A Salute to Our Hometown Heroes." The fireworks show is set for 8:00 p.m.
Hilo Bay Blast is back this year with a whole day full of fun activities. The big fireworks show is set to begin at 8:00 p.m.
For more information on those events plus additional things to do on Independence Day, see our Hawaii, Big Island July 4th page.
Where to watch July 4th fireworks on Kauai
Well, we wish we had better news to share with the Kauai community. Unfortunately, the Concert in the Sky is cancelled for the third year in a row. The Pacific Missile Range Facility will hold their celebration and fireworks, but it is not open to the public.
—
Notes:
Events are subject to change without notice. Many of the fireworks shows are dependent on corporate sponsors as well as individual donations. If/when we are alerted to changes we will make note of them.
More events may be added. So check back for the possibility of more options.
Note to journalists and bloggers:
We spend hours upon hours upon hours curating these lists of events. We take great care in accuracy through many emails, phone calls and extensive research. Therefore, if you are using our pages for your 4th of July articles/posts, would you kindly do what is proper and credit GoVisitHawaii.com with a link in your articles.
The post Where to watch 4th of July fireworks in Hawaii 2022 appeared first on Go Visit Hawaii.